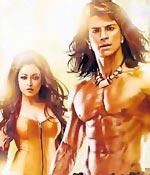 Ufaque Paiker reviews Ramaa: The Saviour. Post YOUR reviews here.

Ramaa: The Saviour, directed by Hadi Ali Abrar, is a tale about two groups of children belonging to different economic stratas, studying in different schools.
Siblings Rohan and Riddhi study in a public school along with Sameer. Kunal and Komal are rich brats, who study in an expensive school.

The two factions are thrown together after participating in a video game titled The Last Battle, where they are sucked into an island. A hunt for treasure then begins between the two rival groups.

On the island, they run into a giant (Khali), who doesn't want the treasure to end in the wrong hands, and another character Raama (Sahil Khan). Tanushree Dutta plays a sexy assistant to a villain.

The film begins with the introduction of the children, who are anything but childlike. We have an oversmart child, who manages to skip his exams every time with the same dumb stunt. Then there is a girl, who acts like a bimbo.
The other characters just make the first half a drag.
To make it worse, they have songs that are unconnected to the movie.
The pace picks up in the second half where we see more of Khali and some special effects at work.

Sahil Khan as Ramaa is convincing to a certain extent while Khali has nothing much to do other than flex his muscles. An overly madeup Tanushree rocks in the fight scenes.
Go for this only if you have nothing better to do.
Rediff Rating: