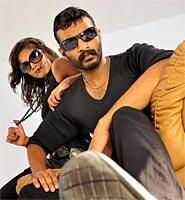 Shruti Indira Lakshminarayana writes Kannada film 9 to 12 disappointing suspense drama. Post YOUR reviews here!

After directing Shapa and Joke Falls, director Ashok Patil is back with Kannada film 9 to 12. The film has Kishore and Nivedita (who was previously known as Smita) in the lead.

The film is about a taxi driver Munna (Kishore), whose family leads a hand to mouth existence. Things get worse when Munna's mother slips and injures her head and doctors demand Rs 3 lakh for the operation. Munna is offered money in exchange for his assistance to an underworld gang. The gang asks Munna to deliver a parcel to a train station but Munna is not told what the parcel contains. He assumes that it is a bomb.

Will Munna's conscience allow him to contribute to the killing of innocent lives? And given the obstacles he faces on the journey, will he even reach the destination at the stipulated time?
9 to 12 borrows much from the Korean film Truck with notable changes in the plot to give it a local flavour.
'Mother sentiment,' a formula that Kannada films have relied upon for quite some time, is central to this film too. Nothing is a crime when it is done to save the life of one's mother, but is that right, the film queries. Along the way it also gives a sneak peek into the child trafficking business.
The film could have been a racy thriller, but there are no edge-of-the-seat moments here. The pace is slow and the performances mediocre.
B C Patil's 'special role' was much talked about but it is a big let-down. Kishore is talented, no doubt, but not as good as he can be, while Nivedita, who has great potential, is confined to strutting around in half-sarees. Nagathihalli Chandrashekar appears as a cop in the film.
Music has little place in this film except for one song, and the editing could have been tighter.
Rediff Rating: