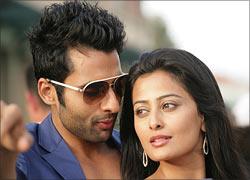 Ajab Gazabb Love is reminiscent of the bad films of the bad 1990s, writes Ankur Pathak.

Ajab Gazabb Love is Sanjay Gadhvi's sixth film. After making the two sleekly directed high octane Dhoom and its sequel Dhoom 2 [ Images ] (and one forgettable Mere Yaar Ki Shaadi Hai), he ousted himself from Yash Raj films to make Kidnap which was a grand disaster.

His being at the helm of a Vashu Bhagnani-backed rom-com is rather strange as Bhagnani continues efforts to revitalise his son Jackky's directionless career by repeatedly selling him as an iconic Bollywood hero.

Times have dramatically changed, Mr Bhagnani. Films where the hero assumes another identity to win over the girl, and that uphold traditional family values, are part of the contrived clichés club and no longer relevant.
They went out of fashion along with the pager and the walkman. Like it happens with all outdated products, we cringe at the very idea of their existence.
The model here is an automobile czar's young kid Rajveer, who has unexplainably fallen in love with the anti-capitalist Madhuri, whose fundamental job is to look pretty while her part-time commitment involves running an NGO to educate the poor.
To appeal to her socialist thinking, affluent dude pretends to be a poor mechanic. He makes his otherwise adorable mother a melodramatically blind woman, while his corporate father sells bananas with the skill of a marketing wizard.
All of this to woo a pretentious heroine who herself belongs to Bhopal's filthily wealthy political class!
Ajab Gazabb Love had the opportunity -- even within its absurdist premise -- to underline the dangerously widening economic inequalities.
But being the star-vehicle that it is, it goes on to mock the financially down-trodden class with snobbish arrogance.
The only motive here is to evoke some laughs at the lifestyle of the country's impoverished class. Fortunately, that doesn't happen because wit has never been a feature of Vashu Bhagnani's films and even if, by some miraculous logic it were, you can safely rely on Jackky Bhagnani to undo all the emotion from the best of lines.
Despite the shortcomings of the inane plot, we could have approved of Ajab Gazabb had it had a convincing heroine. But Nidhi Subbaiah's [ Images ] Madhuri is a character that is laughably undefined.
Her fondness for the poor is based on confounding reasons and her motives are unclearly etched. The banter is borderline Geet-isque (Kareena Kapoor's [ Images ] lovable character in Jab We Met [ Images ]) but without the endearing qualities, making her consistently annoying.
You cannot tell whether it is her fixation with poverty ("Mujhe gareebi ke bare me sab batao"), or her overpowering bosom that made the wealthy Bhagnani kid fall insanely in love with her.
Arjun Rampal [ Images ] appears in a double role as Madhuri's twin brothers, and is an entertaining digression, but a little too stiff. His part is sensibly thought out and permits the film to reach closure.
The rest of the supporting cast deliver plausible performances with Darshan Jariwala [ Images ] as the father being the most convincing. Whether he's dressed like a kelewala or an industrialist, he sneaks into the body-language of the character with the ease of a veteran, and so does Kirron Kher [ Images ] as the mother.
The songs are interjected in the middle, which reflects amateur editing, reminiscent of the bad films of the bad '90s. Which is what Ajab Gazabb Love is really.
It has the feel of a film that was left out in the cold during a recession and which is now being hurriedly released after revamping the posters.
Bhagnani has given us better products. The Dia Mirza-Madhavan starring RHTDM being the best of the lot. Gadhvi too is capable of making better cinema.
Oddly, Jackky seems the perfect wannabe to play this part. How long will the doting father keep churning out films to orchestrate his son's success? (The next film's trailer is already attached to this one).
But if the trend continues, we will be subjected to overwhelming mediocrity -- of characters indulging in over-exaggerated buffoonery, foolhardiness and distasteful humour.
Rediff Rating: