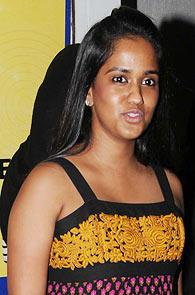 Kunal Khemu's birthday party, held on Friday, May 24, is in the news for very different reasons.

Two of his guests, Salman Khan's sister Arpita Khan (in the picture) and restaurateur Lisa Boccaro were apparently involved in a fight over, it seems, cricketer Yuvraj Singh.

Now, Boccaro protests about her involvement in the fight, and claims she has no interest in Bollywood and its stars.

"They're a different world," Boccaro says. "I am neither interested in films or film people. I am a restaurateur. So all these catfights, scandals and controversies are new to me. I don't come from a family where people abuse others. Anyone, who knows me, would know that I'd never make obscene gestures and abuse, as reported. For me, even raising my voice is an ordeal. In any case, why would anyone go up to someone and do something so awful?"

So what happened that night?

"That night, I went to the party with Yuvraj and his friends. We were all at Yuvi's house and decided to drop in at the party. Arpita got into an argument with another person. I don't know how I came into the picture but I could see that she wanted to pick a fight. So we all thought we should leave. That's it. Then, I woke up on Monday morning with papers and television channels calling me to know what happened."

Lisa says she's 'extremely close' to Yuvraj and his mother.
"Yuvi and his mother are very close to me," she says. "So is Virat Kohli, Zaheer Khan and Angad Bedi. We all hang out together. I've known Yuvi closely for seven years but not in the way it's being implied in the tabloids. We are like siblings. I've tied a rakhi on him for the last seven years."
Apparently, hosts Soha and Kunal Khemu have apologised to Lisa. "Yes, they did," she says. "But I said it was okay. I've moved on. I've no interest in being in the news for such wrong reasons.
"The reports make it look like Yuvi and I are dating. That's really unfair and embarrassing. His mother is my best friend. In fact, we're looking for a nice girl for Yuvi to settle down with," she claims.
In the picture: Arpita Khan. Photograph: Pradeep Bandekar