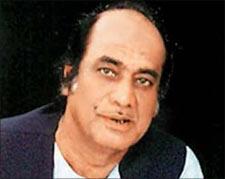 Two years ago, the "Voice of God" as Lata Mangeshkar called Ghazal maestro Mehdi Hassan had expressed his desire to visit India, the country of his birth, but he passed away today without realising the wish.
Hassan, who was suffering from a prolonged illness, was planning to visit India for treatment and wished to meet Lata Mnageshkar, Dilip Kumar and Amitabh Bachchan, his son Asif had said in 2010.

That was also the year when a duet, Tera milna, sung by Lata and Hassan was released. It was their first and last duet together. The song was composed by Hassan himself and written by Farhat Shahzad.
Hassan recorded it in Pakistan in 2009, and Lata later heard the track and recorded her part in India in 2010
and the two tracks were later mixed together for a duet. "When our one and only duet was launched, we sent him tapes of that. He was critically ill and could not understand the song. It was very unfortunate," Mangeshkar said .
Recalling her first meeting with Hassan, Lata said. "My first meeting with him was in Toronto. I don't remember the year but it was ages back. He was performing there with Farida Khanum and I was in Kingston. I went to Toronto to meet him. He stood up on the stage and welcomed me very warmly."

She added, "We met 3-4 times after that. In fact during his illness also he came to my home in Mumbai and had lunch with my family."