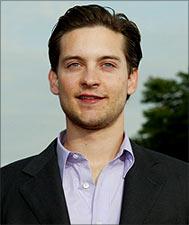 Actor Tobey Maguire's part in Ang Lee's Life of Pi has been recast and he will not appear in the finished film.
 
Maguire, 37, had shot for the film's narrator Yann Martel in the movie but now has been replaced by Prometheus actor
Rafe Spall, reported Huffington Post.
 
"To be consistent with the other casting choices made for the film, I decided to go with an entirely international cast. I very much admire Tobey and look forward to working with him again in the future," Lee said in a statement.
 
Despite the abrupt decision, Maguire said that he has no hard feelings towards Lee, especially because they have built
a good friendship since working together in 1997's The Ice Storm.
 
"I fully support Ang's decision to go a different direction for this role in Life of Pi. Ang shared a lot of the film with me, and what I saw was absolutely beautiful," he said.
 
Life of Pi is in the post-production stage and expected to hit theatres on November 21.
Photograph: Kevin Winter/Getty Images