Director Reema Kagti makes her debut this week with Honeymoon Travels Pvt Ltd.
The unconventional debut seems to be making waves among the rediff readers, and here's a look at how the chat went:
Reema Kagti says, hi guys reema here

---
saroj asked, h'moon based in real life h'moon ?
Reema Kagti answers,  not really though it deals with real people and real issues
---
Siddharth asked, How do u feel on ur 1st directorial venture? On top of the world? Do you think its male dominated? Do women get pushed around in this field too??
Reema Kagti answers, i feel great. this film is something i really wanted to do and now it's done...though gender bias does exist everywhere, I have not personally had any bad experiences.
---
akki asked, hi...Anurag Kashyap has written the dialogues for the film..being a romantic comedy how imp was 4 u..as anurag being a no nonsense writer to get the flavour of comedy in the dialogues..kashyap's comedy is more of real life than farce..comment..
Reema Kagti answers, anurag is a very talented guy. Though his personal style is very different from mine, he is a friend and I knew a part of him is best suited for writing my dialogues for me. The not so serious part of him, i guess!
---
Chetan asked, Whats special in this movie?
Reema Kagti answers, it's very different from anyting you will have seen on screen. for starters, it's funny, fresh, entertaining and interesting.
---
honeysun asked, chat shuru ho gaya ki nahin?? btw, my question is what can youth expect from this film?
Reema Kagti answers, the film on one level is about six maried couples but on another it is also about 12 individuals looking for happiness in a difficult world. i also think my brand of humor is very accssible for young people.
---
jesal asked, What actually brings freshness to your film which is lacking in other films ?
Reema Kagti answers, you need to watch my film for the answer to that.
---
yuvraj asked, which film u going to direct next??
Reema Kagti answers, waiting for the honeymoon chaos in my life to die down before making any decisions...am toying with the idea of a thriller though.
---
Nick asked, Hi ... have you ever thought about acting yourself?
Reema Kagti answers, never
---
akhilesh asked, i have not seen this film. whether it is released?
Reema Kagti answers, it releases on the 23rd...do watch it
---
maverick asked, i am 23,i want to be a movie director,currently doing an IT job,do u think FTII trainig(exam is in march) can help or wit can u suggest to someone like me as in how to get into this profession,where should i start from ?.pls reply
Reema Kagti answers, FTII is a good plan but even if you dont get in you can always learn on the job like me...i did not get into FTII by the way!
---
tejas asked, Hello Reema? Honeymoon travels seems to be interesting name!!! I expect it to be very funny and good learning for new gen rite ?
Reema Kagti answers, yes the title is a very good indication of the knd of film you can expect
---
Tejas777 asked, What kind of learning is there from your movie ??? can you share that plz.
Reema Kagti answers, it was a big leap for me...actual hands on experience is always the best learning tool
---
Mit asked, How u make K K to do such good dance !!!
Reema Kagti answers, i didn't have to do anything...he came up with his own steps!
---
upasana asked, hi REEMA.FIRST OF ALL CONGRATS FOR UR FIRST DIRECTORIAL MOVIE.TELL ME SUMTHNG ABT URSELF WHICH U WOULD ALWAYS FEEL PROUD OF???I WISH U LOTS OF SUCCESS IN UR UPCOMING MOVIES N OFCOURSE FOR HTPL.
Reema Kagti answers, i am proud of my film...it was kind of hard putting it together but ultimately i am very happy with the end product
---
Sanjeev asked, Reema, if you had the choice of a good budget and do your own thing, then would you still have made same movie or something else?
Reema Kagti answers, this is the film i wanted to make and i think i chose to do my own thing over everything else already
---
akki asked, could u give us an insight on getting your first film?
Reema Kagti answers, keep an open mind and let the film unfold in front of you the way it is supposed to...i swear you won't regret it
---
ankur asked, Tell us something about the movies, directors and screenwriters who have inspired you?
Reema Kagti answers, i am very influenced by world cinema...i like more personal films as opposed to generic ones...wong kar wai and pedro almodovar are my favourite directors
---
bablu asked, hi Reema, congrats for turning the table of steroetype cinamatic image of bollywood by putting some ginger & red chilly to change the test of movie goers. I hope the moview would entertain the masses.
Reema Kagti answers, i have done my best and am confident that people will like my film
---
malhotra_del asked, hi Reema , just wantd to wish you ALL the Best for the movie,, i am people will like it and it will be big hit ......
Reema Kagti answers, thanks...from your mouth to god's ears!
---
jesal asked, Does it really helps to shoot the film at straight which in brings best in all the characters ?
Reema Kagti answers, yes a straight schedule helps not just the cast but also the crew
---
jena1 asked, what makes your movie different than others?why you think it will click
Reema Kagti answers, you need to watch the film to actually know why...i have played with an unusual content and structure...i think it'll click coz it's honest, funny and interesting...it deals with real people who actually exist and therefore it is easy to idenify with my characters
---
jena1 asked, huh seems my questions wonot get answared,anyway i saw the songs ,I must say picturasation stands out
Reema Kagti answers, well...i've tried very hard to do a good job...i am also very happy with my DOP's work
---
neha asked, how safe and secured do u find a directors job?
Reema Kagti answers, it's not at all safe or secure...and stays tha way however succesful you get
---
ckilaru asked, Why doesn't Indian directors make movies with international audience in mind? Not saying, give up on Indian market... It's huge. But the international market is bigger. That's the reason why Hollywood can spend so much more (not that they are making great movies...) Whats your take?
Reema Kagti answers, there are lots of young writers and directors who share your view but they don't have that much support from financiers, producers or actors which makes things very difficult. But i am confident that within a decade india will be known for another kind of film apart from the existing bollywood masala movie
---
Sachin asked, What are the best features of this film?
Reema Kagti answers, humour, honesty, entetainment value
---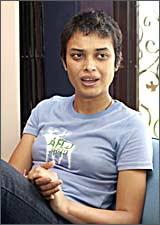 pankajbse asked, why u chose shabana ji at this age
Reema Kagti answers, coz love is not just the premium of young people...older people are also entitled to it
---
decaflatte asked, what do you think is the reason for so few women directors in the indian movie industry?
Reema Kagti answers, it's a fall out of gender bias in the world i think
---
Ashok asked, Hello Reema Jee, how r u. as the film name honeymoon travels pvt. ltd., what does it mean , what is the story about this file and what u want to show throgh this movie , i mean u want to show how to celebrate honeymoon new couples or something else i think it is fun, movie any way best of luck as a female director
Reema Kagti answers, in the end you arive at a simple truth...honest intimate relationships can make a difficult world much easier to deal with.
---
Abhijeet asked, Hi Reema, What does it take to become a director, would you term it as an art or impulse, or pure practice.
Reema Kagti answers, thnk you need an imagination...thats all
---
moonmoon asked, Reema ji, You based your first film on which Hollywood Film ?
Reema Kagti answers, my film is not based on any ohe movie it is really an original piece of work...if and when you watch my film...you will have to give me that
---
Ritesh asked, I am really inspired by you to have made it in the indian film industry which is run by god fathers. What is the single most important attribute you think a director should have?
Reema Kagti answers, an active imagination can compensate for every other lack in your life whether it's godfathers or luck
---
vas asked, why we do not have enough film institutes in our country and ur opinions aboutbeing mumbaiker
Reema Kagti answers, how about starting wih the question why don't we have enough schools in our country, forget film schools? mumbai is my adopted home and i love it
---
spurthi asked, i liked the trailer of ur movie .... it looks very interesting... i was curious to know as to y u have cast amisha patel ...
Reema Kagti answers, coz she suits the role perfectly...and has done a great job
---
supriya asked, Hey Reema, i hope the movie's a huge hit! i m definitely watching it ! :) How was it working with so big names in your very 1st movie?
Reema Kagti answers, i wa very nervous initially but it worked out ok
---
Utkarsh asked, Reema,can u make a film on a subject which may be socially alarming,but can be presented in a very lighter way?
Reema Kagti answers, one a level i have trie to do just that with honeymoon...though the film never strays from a light hearted entertainer vibe it deals with real, sometimes pretty dark subjects, that people don't usually acknowledge let alone make films on.
---
Reema Kagti says, thanks guys it's been great chatting with you...i am specialy pleased that so many people are showing an interest in my movie...i am confident of not disappoiting u so do check the movie out. gotta go now...