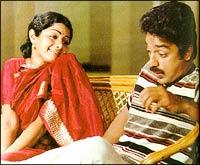 When we asked our readers which film's ending they would love to change, one of the most common answers was the Kamal Haasan-Sridevi starrer Sadma.
Some other common entries were Ek Duje Ke Liye and Sholay. But let us not give away the climax to you. Instead, over to the budding scriptwriters!
Naveen Sajjan: I really want to change the climax of Sadma. After Kamal Haasan's care and concern for Sridevi throughout the film, he does not get credit for it. [When the mentally challenged Sridevi recovers, she cannot remember Haasan and the love and care he showered upon her to cure her].
SJ: There should be a change in my favourite movie Kaante. The audience liked the first part very much but second part was too verbose. Also, I believe there should have been a twist in the end. Instead of Kumar Gaurav taking the pie, it should have been Amitabh Bachchan. He should have run away with the money.
Also, in Aankhen, Amitabh should come out from jail and catch Arjun Rampal and Akshay Kumar and make them play another game in which they can catch Amitabh redhanded.
As you can probably see, I am an Amitabh fanatic :)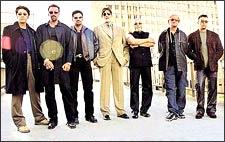 Runa Roy: The ending of Tere Naam was too sad. Whenever I watch the movie, I feel depressed.
Salman Khan has acted amazingly, but the way he escapes at the end to meet his love is not believable. 
When Bhoomika Chawla goes to meet him in the mental asylum, she should find that he is cured, and her love has changed him and he has become a good man. They should live happily ever after.
A happy ending always leaves the audience happy. A movie should be inspiration for the younger generations. This ending would inspire the youth that true love can change an individual like Radhe.
Anil K: I wish Rajesh Khanna had survived in Anand and Kamal Haasan and Rati Agnihotri had lived in Ek Duje Ke Liye. The ending of Tere Naam was also tragic. I would change them to happy endings.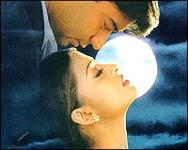 Jaswinder Singh: I was not happy with the end of Hum Dil De Chuke Sanam, and the explanation given by Aishwarya Rai to chose her husband (Ajay Devgan) instead of her boyfriend (Salman Khan).

She left Salman because she had lived with Ajay and he turned out to be a nice guy. Does that make Salman any bad? What if she had another guy in her life who was better than her current husband? Would she leave her husband for him as well?

Priyanka Oza: The film which should have ended differently is Fida starring Kareena Kapoor, Shahid Kapur and Fardeen Khan.
The film was fantastic and kept us glued to our seats but the ending was so disappointing that all the fun and suspense was snatched away. I think either Shahid or Fardeen should have died in the end, not all three of them.
Hyder Khan: I would have changed the story of Tere Naam. The movie is cool in the beginning but ends so tragically that it almost bores me. I would have changed the scene when Bhoomika came to meet Salman in the ashram and was going away after seeing him sleeping. When Salman starts yelling for her, I would have let Bhoomika turn to look at him for the last time and be delighted that he remembers her. Then, she should go running towards him.
Salman should come out of the ashram and beat the hell out of those goons who sent him there in the first place.