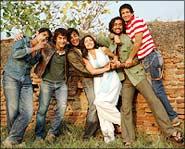 There was much festive cheer for Rang De Basanti, as the film went on to grab far more money than was expected in the key overseas markets, with many shows in New York, San Francisco, Toronto, Vancouver, London and Birmingham going full.
With $701,000 grossed in North America and about $400,000 in the United Kingdom, the worldwide three-day gross for the film -- starring Aamir Khan -- came to about $5.7 million, according to its distributors UTV.
The film has done huge business in the Gulf countries, the distributors say, where its total gross could exceed $1.5 million. The Rakeysh Omprakash Mehra film, which cost about $6.5 million, will have to gross $13 million before it breaks even.

"Theatres are reporting many repeat viewers on both the West Coast and East Coast," said Lokesh Dhar of UTV in New York. "We expect this film to have long legs. It is not going to be a three-day wonder."
Special: All about Rang De Basanti 
Though some viewers were disturbed at the thought of the young rebels taking the law into their own hands, many were moved by their courageous act.
In many theatres, there were lively arguments if the film celebrated violent rebellion.

"But you must also listen to what the rebels tell other young people," said one elderly fan at a New York theatre. "Even after they have committed violence, they are asking others to join the police or the government and bring about changes from within, without resorting to guns."

Its $11,502 per screen average in North America was the highest for an Indian film in a wide release in recent years, Dhar added.
The film opened at number 23 on the box-office chart in a strong week at the box-office dominated by Big Momma's House 2. In the United Kingdom, where the final tallies were being made, RDB was expected to be at number six.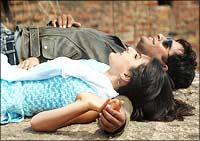 Though many Pakistani and Bangladeshi fans stayed away from the film because of its story about Indian politics, the must-see factor among Indian audiences was extremely strong.

The film's weekend gross was far more impressive considering that unlike other recent hits like Hum Tum, the film opened to a three-day -- not four-day -- weekend, its distributors said.

Aamir's previous release The Rising had barely grossed $250,000 in three days in North America and had a steep fall in its second week. It had a similar disappointing run in the United Kingdom too.

Even if Rang De Basanti were to come down by the customary 50 per cent decline for Hindi films in the second week (and the subsequent weeks), the film could earn a whopping $2.6 million final gross on both sides of the Atlantic. If it bucks the trend, it could even gross $4 million.

Though UTV had planned to open the film on 70 screens in North America, it scaled down the number to 61 as the opening day approached.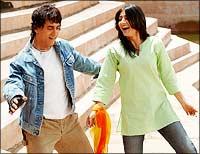 "Now we are thinking of adding half a dozen screens," Dhar said, adding that the film was also opening in a handful of smaller territories, including Malaysia, on Friday.

Meanwhile, Sanjay Gupta's Zinda died an early death, and Looking For Comedy In The Muslim World, which opened to tragic results, collapsed in the second week. Ismail Merchant's last film The White Countess -- set in war-torn China and concerning a Russian émigré aristocratic family -- was far from being the last hurrah for the producer.