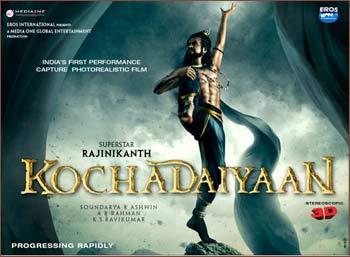 While the release date in December for Rajinikanth's eagerly-awaited opus Kochadaiyaan is being worked out, it's quite clear that this is no run-of-the-mill release for a Rajinikanth starrer.

All stops are being pulled out to ensure Kochadaiyaan is a historical event for the superstar's fans.

The film is expected to have a four-city world premiere tour, with Rajinikanth and his heroine Deepika Padukone.

One of the cities he will visit is Tokyo.

Rajinikanth, who has a huge fan following in Japan, has been planning a visit to the country ever since the Tsunami earthquake earlier this year.

Says a source close to the project, "All the dynamics of a Japanese premiere for Kochadaiyaan are being worked out. Deepika and Rajni Sir are expected to be in Tokyo in December for the premiere."
The actor's health issues have been worked out, and he has been declared fit to travel by his doctors.
When contacted, the film's producer Murli Manohar said, "We're looking at a gigantic release. The film will be released in separate languages in different parts. We're planning to give Rajini's fans a treat."
Apparently, Rajinikanth is brushing up his Japanese for the special visit.
"He will not be able to dub his own lines in the Japanese version of Kochadaiyaan but he will be able to converse with his fans," says our source.