Rajkumar Santoshi's Halla Bol, which releases on January 11, looks quite interesting. The film has Ajay Devgan play a struggling actor, who soon becomes a star. His humbleness is swiftly replaced by arrogance, as he basks in his success. Halla Bol also has shades of the Jessica Lal murder, as Devgan's character witnesses a murder.
The film also stars Pankaj Kapur and Vidya Balan.
Santoshi talks to Arthur J Pais about his upcoming film, and also his new projects -- Ashoka and Ramayan, both of which will star Devgan.
How did Halla Bol come about?
For more than a decade, I have been thinking of making a film about how many of us shirk our responsibilities and claim we are neutral. But just because we are silent, we are not really neutral. I thought of taking up the film now and then, in the past decade. But other projects came up. However, the idea would not go away.
Why did the idea persist?
Because we are confronted by situations where we are expected to take a stand, all the time. But many of us turn away. I have been guilty of it too. It has been becoming increasingly clear to me that if I do not stand up to the person next to me, I am guilty of joining hands with those who are oppressing that person. And a time may come that I would be the only person standing, and there would br no one to defend me.
What would you say -- in a sentence or two -- is  the theme of the film?
Raise your voice. That is the proof that you are truly alive.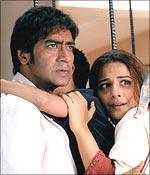 What happens to Ajay Devgan's character in the film?
His soul slowly becomes corrupt as he becomes more and more successful in life. He loses his humanity. But the day of reckoning surely must be coming.
You love working with him, don't you?
He is a trusted friend. And I feel that I will continue working with him for many years. I never get tired of working with Ajay. He will be playing the lead in Ashoka and then in the Ramayan. Both will be made within two years. I am sure people will be astounded how he will interpret the two compellingly fascinating characters. Ajay is one of the few leading men in the industry today who will some day become a very valued character actor.
What do you feel most appealing in him?
He has never been a chocolate face actor. Though he has received a lot of praise for his performances and awards, I feel every time I work with him, there is so much more talent in him that is waiting to be exploited. Ajay surprises me every time we are doing a new film.
What kind of Ashoka would he make?
I am sure he will bring out well all the contradictions, weaknesses and strengths in Ashoka. I love history and I read extensively about historical people. I have been thinking of this film for many years, and Ajay was always there in my mind as Ashoka.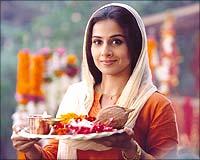 Some filmmakers would have been tempted to cast 'handsome' actor as Ashoka.
(Chuckles) That is the point. From my reading, I know that Ashoka was not a handsome person in the traditional sense. He was also a dark skinned person. One of Ajay's strengths is that he can get under the skin of any well-written role and make it his own. He has sharp, expressive eyes. And he appears to be very natural in all the challenging characters he has played so far.
People surely have asked this question before. There is already a film on Ashoka, starring Shah Rukh Khan and directed by Santosh Sivan. The film got mixed reviews and did not perform well. What made you decide on another film on the emperor?
The answer lies in your question. It is not that I did not like the previous film. But I found it ended at a very important juncture, the Battle of Kalinga, that led to Ashoka getting horrified with the carnage on the battlefield and renouncing warfare.
My film starts where Santosh Sivan's film ended. I am fascinated by the life and times of Ashoka. I remember reading H G Wells, who considered Ashoka to be the most powerful emperor because of the moral strength he had in renouncing violence and seeking an ethical life for himself and his people. Wells considered Ashoka to be even greater than Alexander and Julius Caesar. It would not have surprised me to read an Indian historian calling Ashoka great. But a British historian recognising Ashoka's greatness? How can I resist the idea of making a film on Ashoka?
There surely some people in the film business who think it is a risky subject?
I am sure. But the fact that I am all ready to make the film --- we plan to start shooting it in February --- shows my confidence in the subject.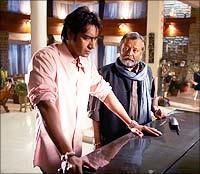 What did you find most interesting about Ashoka's life?
I am tempted to look at what might have happened after he renounced war and he actually begin to believe in the renunciation. I don't think the transition was easy. I don't think he stopped fighting the demons within himself once he took that decision. I am often intrigued by, whether I read a novel or study history, the transitional period.
What made you choose Bipasha Basu for Ashoka?
I think Ajay and Bipasha have excellent screen chemistry. She plays the role of Kaurwaki. She has to be sensuous and also a person of determination. This could  be one of the most challenging roles of her career.
There surely are people who will remind you about The Legend of Bhagat Singh. Did that film eventually make the money?
The producers of the film say they haven't recovered the investment. And yet, TIPS is so proud of the film, it is mentioned as their proudest achievement. Though the film was not a runaway hit, thousands liked it. It won many awards. Many people in India consider it to be one of the finest historical films made by an Indian filmmaker.