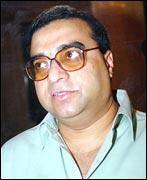 Raj Kumar Santoshi is known as the man who can get big names to co-star in a film. His latest, Family, has opened to disappointing numbers despite the presence of Amitabh Bachchan, on whom the film rests. The film also ran into trouble because of its posters, which showed a cigar-smoking Bachchan.
In conversation with Subhash K Jha, Santoshi says this kind of moral police is taking cinema back to the middle ages. Excerpts:
Your new film Family has opened to unenthusiastic response.
Normally, once I finish post-production work, I move on to my next. In fact I've been out of the country hunting locations for my next film, a comedy.
What about the plot of Family?
I don't see it as an action film. I see  it as emotional family film. When Shaktiman [who wrote Gadar] came  to me with the idea, I really liked it. My co-writer Sridhar Raghavan and I re-worked more than 80 per cent of the original story. We didn't want it to be a normal vendetta film. At the core, the theme is almost mythological. Mr Bachchan's downfall is like that of Karna in the Mahabharat who died of his own karma. That's what we tried  to show in Family -- if you don't have a family to fall back on, you have nothing.
How was it directing Mr Bachchan for the second time after Khakee?
I have been a very big fan of Mr Bachchan right from my college days. I wrote both Khakee and Family with Sridhar only to showcase his [Bachchan's] talents. After Khakee I wanted to bring out another dimension in Mr Bachchan's acting. The first thing we did was to place him on the opposite side of the law.
When I arrived at the script of Family, I knew this would give me a chance to present him in a totally different light. Mr Bachchan plays a man that the audience simply hates. Look at how he gets Akshay Kumar's character killed with such arrogance, ruthlessness and indifference. But finally, we cry for the gangster. That graph -- from loathsome to sympathetic -- could have only been carried off by Amitji.
Do you think audiences want to see Mr Bachchan in a negative role? Especially after his illness?
Why not? I never thought of this when casting him. He is an actor, and an outstanding one at that. I don't think we filmmakers should mix up his personal life with what he does on screen. If we do, we will end up like waiters at a hotel, taking orders from the box office on which section of the audience likes what. In any case, Mr Bachchan isn't all black in Family.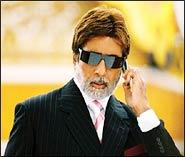 How did his illness affect your film?
Only to the extent that we were supposed to release the film on December 23. We had to postpone that by a couple of  weeks. That apart, Family showcases his calibre to the optimum. The plot rests completely on his shoulder -- right from the start to the end.
Do you think  you have evolved as a director?
Nowadays I get very angry when I pick up the newspaper and see what's happening around us. I would say my cinema has become more aware of our surroundings. The battles are more socio-politically widened now than in my earlier films.
Your next is the politically charged Saamna.
I'm no longer doing Saamna now. That was a very controversial subject on the marriage of religion and politics. Now I'm doing a comedy called Ladies & Gentlemen. After that I'm doing a musical set in London called London Dreams with Salman [Khan] and Ajay Devgan.  
Who will star in Ladies & Gentlemen?
We haven't decided. The comedy is an intimate one, with not too many characters. It's my first comedy after Andaz Apna  Apna. It was on the anvil for some time. I was wondering when would be the right time for it. The film is very modern and glamorous and almost futuristic in terms of content and mood. It's almost like a 2009 film.
So why now?
When Saamna was put aside, I needed another project to replace it immediately.
Will Saamna be made?
It will be made at some point. But I'll first have to wait and watch the situation. I don't want it to become  a victim of any controversy. Look at what's happening to Rakeysh Mehra's Rang De Basanti. And Family was pulled up because Amitji smokes a cigar in the film -- I strongly feel such censorship is harmful to cinema and our right to expression.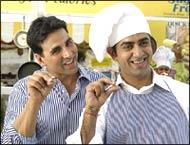 Are you in favour of smoking ?
Not at all! I don't smoke. I  don't want my children or anyone's children to smoke. But the cigar gave a certain attitude of style and arrogance to Amitji's character. If cigarettes can be sold in the market with a statutory warning, then I don't mind putting a similar warning on my hoardings. Unfortunately, they put that photograph of Amitji -- with a cigar -- on the hoardings. I wasn't aware of the repercussions. The marketing people should have been more cautious.
But people have objections to Mr Bachchan smoking.
That is really disturbing. He's an actor, yaar! Should he only play characters like Gautam Buddha and Mahatma Gandhi? The moralists must change their attitude. Otherwise we'll take our cinema back by so many years. If he is playing a gangster he will have to carry a pistol. That doesn't mean Amitabh Bachchan is carrying a weapon.
Does this moral censorship daunt you?
Absolutely. Every filmmaker feels suffocated. We're heading towards a cinema of prudery. Let the audience decide what it wants to do. You can't do this. Don't underestimate the audience.
I'll continue to make the films I believe in.
But you did postpone Saamna.
Well… tomorrow anyone from any small town can get up and file a case stopping my film. I've gone through this during Lajja. It's very dangerous. I make expensive films. I can't afford to falter. I'd never do anything that would jeopardise a project.
Do you think the impact of your earlier films is missing in your recent works?
It's just the choice of subjects. I made The Legend Of Bhagat Singh and Khakee which were according to me very topical subjects. In Khakee I tried to show the isolation of the Muslim community and how the cops have to be non-partisan. In every film I try to make a social comment.
In Family, I feel you were burdened by the task of projecting the producer's son.
Not to a large extent. But yes, the songs were forced in for Aryeman. But I gave him no romantic angle.