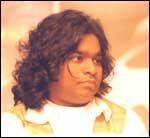 When A R Rahman was offered Bose: The Forgotten Hero, the composer did not hesitate to take it up.
Wasn't he concerned he had composed music for too many period films in recent years -- including Lagaan and The Legend Of Bhagat Singh -- and also agreed to work on the Aamir Khan starrer The Rising? "What was important to me was that these films are made for posterity," the 39-year-old music director told rediff.com in New York. "These films are made by serious filmmakers who are taking big risks. I find it very stimulating to work with such talents."
Rahman's tunes bring Bose back
"There are times I take up a project even when many people in the business feel that the film may not become a hit," he said, adding he does not regret having worked in films like M F Husain's Meenaxi and Shyam Benegal's Zubeidaa.
"Those films have very good reputations and people have appreciated their music. It is important to remember that money is not everything, even in this business."
Even as he got busier with the British musical version The Lord Of The Rings, he still made time for films that he thought were challenging. The musical in which he works along with a Finnish folk group opens in Toronto in March 2006 and a few months later in London. A Broadway version is also under discussion. Each edition reportedly cost $20 million, making them the most expensive shows to open in London or Toronto.
Another important reason he took up Bose was because he was going to work with Shyam Benegal again, more than three years after Zubeidaa.
Rahman considers his music for Zubeidaa among his strongest and he attributes some of its success to Benegal's vision.
"On my way to New York, a gentleman recognised me and started chatting about my music," Rahman recalled. "He wanted to tell me his favourite numbers. He surprised me when he mentioned Zubeidaa. I thought he was going to mention Taal or Lagaan."
Benegal had let him be on his own, Rahman said with a smile. Benegal had perhaps thought the composer worked best when he was alone. "But I really wanted him to sit with me and feel how the music was working out," Rahman said, smiling. "Once we had that understanding, everything worked out fine."
For Bose, songs that had fuelled the Subhash Chandra Bose's Indian National Army had to be presented in such a way, Rahman said, that the integrity of the originals were preserved.
The movie also gave him a unique opportunity to compose several instrumental numbers. He did have a small regret: He wanted Lata Mangeshkar to sing a number but she was not available. "However, we found a newer singer, Swapna Mukherjee, and she worked out very well for the film."
Rahman has also used voices most movie fans may not be very familiar with -- Vijay Prakash, Nachiketa Chakraborty and Satyanarayana Mishra.
Many filmmakers in Bollywood like Subhash Ghai, Rajkumar Santoshi, Govind Nihalani and Benegal have appreciated his soft melodies. "But in Chennai, producers want fast and louder music," Rahman said. "Sometimes, it is difficult to convince them that soft music has its merits."
"I love composing the kind of songs I grew up listening in my younger days. In the Hindi movies, I admired the songs of Madan Mohan, S D Burman and Naushad in particular."
His respect for Naushad's work in Mughal E Azam is so intense, Rahman said, that when feelers were sent to him if he would compose a theme song for the film, he rejected the suggestion outright.
When told that Naushad, while criticising the current state of music, had also found fault with him, Rahman smiled. The senior composers are like elderly family members, he said. You hug them, you touch their feet, and they will welcome you in no time. They are like children, he added.
He had made several attempts to meet with Naushad late last year, but something or the other cropped up. Missed opportunities, Rahman said with a sigh, often fuel misconceptions and misunderstandings.