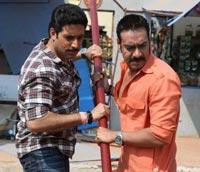 English is a very funny language and Ajay Devgn's character in
Bol Bachchan
has proved it yet again.
Devgn, who plays a
pehelwan
(wrestler) obsessed with the English language, translates Hindi phrases in English which turn out to be funny.
Needless to say,
Bol Bachchan
dialogues have become popular since the film's release.
Take this fun quiz featuring the dialogues from the film and see just how well you do!
Also, discuss Bol Bachchan and the dialogues of the film on Rediff Chat at 4:00 pm on Wednesday, July 11, with Sonil Dedhia.
Also read
:
The Ten WORST Films of Ajay Devgn
Review: Bol Bachchan is amateurish and silly
Dear Bollywood, gay jokes are NOT FUNNY!
Raja Sen: Why we must root against Bol Bachchan
(Due to circumstances beyond our control, date and time of chat may change)