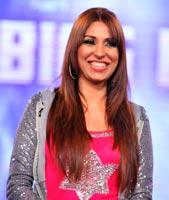 Pooja Missra, who had been asked to leave Bigg Boss because she assaulted housemate Sidharth, will re-enter the house today. She will accompany Australian cricketer Andrew Symonds, as his translator.

It will be interesting to watch how Symonds will cope with Pooja's erratic behaviour.

After leaving Bigg Boss, Pooja stated

that the reason she seemed aggressive on the show was because the other contestants had isolated her right from the beginning.

Pooja said that when everybody realised she was a sweet person, they began instigating her in such a way that she would get provoked and react violently. 

Will Pooja enter as a reformed person, or will she be as aggressive? And how will the housemates, especially Sidharth, react to her return? Let's wait and watch.