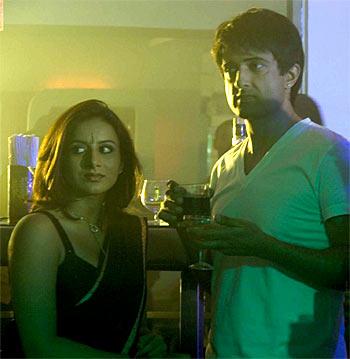 Kannada film industry's leading actress Pooja Gandhi has been in the news for all the big offers coming her way recently. The Punjabi girl who has now migrated from Mumbai to Bangalore seems to have a special place in the hearts of her Kannada film fans ever since her first film Mungaru Male became a blockbuster. She further cemented her place at the top with several hits like Milana, Budhdhivantha and Taj Mahal.
Now, the actress is doing a Hindi film Abhimanyu directed by Onir. Abhimanyu is one of the five short films to be made by Onir (of My Brother Nikhil fame) on social issues. Each short film will be of 20 minutes duration and will be screened at several international and national festivals. All these five films will be combined and released as one film with a single title I Am for the multiplex audience.   
The short film that Pooja is doing deals with child abuse. She recently shot one important sequence for Abhimanyu in Bangalore with co-star Sanjay Suri, who plays the title role in the film. Pooja has a guest role, Aparna, an architect. The scene was shot in a discotheque in Bangalore's well known Brigade Road.
'Pooja Gandhi, in her black sari was looking gorgeous and her role in the film adds to the glam factor' says Sandeep Milani, Onir's assistant director, who earlier directed the Kannada film SMS 6260. 
Pooja says that she decided to do the film mainly because of the story. "The script was very good. I am sure Onir would make a highly appealing emotional film. I don't have any big dreams of entering Bollywood by using this as a platform. I only worked in this film as I wanted to support the cause,' she added.
Incidentally, well known film director Anurag Kashyap will be testing his acting skills in the role of a diabolical child abuser in this film.
Bollywood actors Radhika Apte, Shernaz Patil, director Anurag Kashyap and Rahul Bose will be featured in the other four short films. The shooting of two more short films will begin in Bangalore shortly. One short film titled Omar will start its shooting on August 17. 
Image: Pooja Gandhi and Sanjay Suri
Text: R G Vijayasarathy