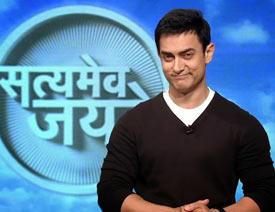 Mohanlal joins Aamir Khan to promote his upcoming television show, Satyamev Jayate.

Looking to gain maximum leverage in every region, even in the south, the makers of Satyamev Jayate have roped in superstar Mohanlal for the upcoming season of the issue-based TV show.

Mohanlal, 53, will talk about the various social subjects that will be tackled by host-actor Aamir Khan in the show.

"I am excited at this opportunity to be associated with Star India for the new season of Satyamev Jayate. The show highlights
various social issues that are relevant to people across the nation," says Mohanlal.
"The concept of the show is very noble and an initiative of this nature requires each one of us to come together," he adds.
Through his association with the show, he communicates the need to come together, as a nation, and support
Satyamev Jayate
to raise, discuss and find solutions to the problems that plague India and its people.
The Malayalam actor will be endorsing the show and shooting a set of exclusive promos for the show.
The second season of the show will start on March 2, at 11 am.
It will be aired on Star Plus, STAR Pravah, STAR Vijay, Asianet, STAR Utsav, DD and a differed telecast at 1.00 pm on ETV.