Aishwarya Rai's La Mer residence in Bandra was bustling with activity on Thursday night, the night of her mehndi ceremony, on the eve of her wedding to Abhishek Bachchan.
The lane outside her home was full of fans, media persons, police and security personnel. Neighbouring residents were out on their balconies and windows to catch a glimpse of the proceedings.
Don't Miss: Ash-Abhishek wedding
Ad filmmaker Prahlad Kakkar and Sachin Tendulkar's wife Anjali -- who stay in the same building as Ash -- were part of the activities from the start. Susmita Sen and her daughter Renee arrived later to wish her.

The Bachchans, accompanied by close friends, arrived in a blue Volvo draped with curtains at about 8:45 pm. The presence of Black Cat commandoes indicated the presence of Samajvadi Party leader and Bachchan's close friend, Amar Singh.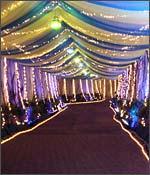 The policemen and security guards had a tough time keeping fans and media personnel at bay, while negotiating the traffic in the narrow lane.
Dancers and drummers in traditional Punjabi attire added colour to the function.

"I am a huge fan of Abhishek and Aishwarya," says Lakshmi Kanuwanjiyar, 55, who stays nearby. "I am here to catch a glimpse of them. I will stand here until I get that chance."
She was not the only one. Quite a few women and children were jostling outside to catch a glimpse of the young couple.

Ironically, the favourite Ash-Abhi film for most fans is Dhoom: 2, even though they were not paired opposite each other in it. Even the fact that Hrithik Roshan stole the thunder from Abhishek did not matter to them.

"Aishwarya was too good in Dhoom: 2. Abhishek was also good. I think they look cute together. I wish them all the best," says nine year old Viyanka.

But not everyone was upbeat about the star wedding. Some of the residents were put through a lot of inconvinience. The private security had to step in to regulate the traffic. No one was allowed to park or even stop on the road, near La Mer.

A resident, Sudeesh Chauhan, had a rough time with the security guards when he tried to park his car.
"The age difference between Abhishek and Aishwarya will have a critical impact on their relationship later," predicted nine year old Clinton, who stays nearby.
The Bachchan Volvo left La Mer for Prateeksha within minutes of arrival. Apparently, they had gone to the Rai home to give them shagun, which consisted of haldi and mehndi, among others items.
By 10 pm, the crowds began to melt away, many dejected faces among them, as they could not catch a glimpse of their favourite stars.