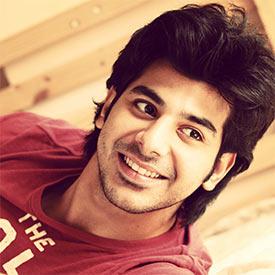 The relatively unknown Pavail Gulati -- seen in a brief role in the long-forgotten horror film Hide & Seek-- has bagged a pivotal role in the upcoming television serial Yudh, starring Amitabh Bachchan.
Pavail says he had to go through some agonizing suspense before getting the coveted part. "I got the part when casting director Mukesh Chhabra asked me to audition. I was super-kicked. Then I heard the part had gone to another actor. I hadn't told my parents that I had gone for the audition; I didn't want to raise their hopes. When I heard I had lost the part, I broke the news to them. Like all parents, they consoled me and hid their disappointment," says Pavail.
But the joyless tidings proved to be false.
"Later that same night, I got a call from Mukesh Chhabra saying, 'Congrats, you are Mr Bachchan's son.' I almost retorted, I am not Abhishek. But then I understood what had happened. Apparently Anurag (Kashyap, director) saw my audition and loved it."
The gravity of the opportunity provided to the newcomer sank in much later.
"I realised the importance of what I was doing when I did my first take," Pavail says. "That unreal feeling then became real. If I have to describe the experience of playing Bachchan Sir's son in one word, it would have to be awesome. It was another world that opened to me."
Pavail is a trained actor. "In film school, I had been taught by Naseer Sir (Naseeruddin Shah). I got to act with him later. That experience prepared me for bigger things. It can't get any bigger than working with the Big B."
Playing Mr Bachchan's son is a very big thing for Pavail's parents as well. "They have loved him since they were young. He was their hero. Now their son plays their hero's son. It's surreal! I am happy to make my parents proud. They couldn't have asked for a better father for me!"
He raves: "Mr Bachchan's professionalism is to die for, There's no end to how much I learn from him. He allows me as many takes as I require. He gives me suggestions and cues. I could go on and on raving about him."