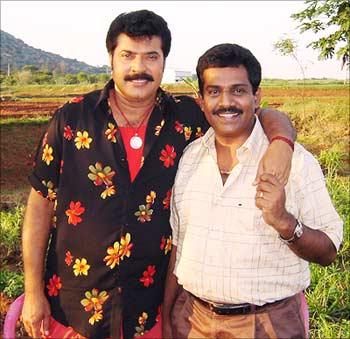 Reader
Vinod Kumar
couldn't believe his luck.
Being an ardent Mammooty fan, he almost fainted with excitement when he ran into the megastar.
Vinod wished him good luck and asked if it was acceptable to get a snap taken. Much to Vinod's surprise, Mammooty was only too glad to oblige!
Vinod wishes to inform other readers that this is one megastar who is truly a down to earth personality!
If you encounter/meet/see film or television personalities and photograph them, please scan the photographs and
mail the pictures to us
. We will feature the best images right here on Rediff Movies.
Also check out: Saif, Rani's new film | Amitabh in New York | SRK, Saif & Akshay | Aamir | Ajay | John | Abhishek | Shah Rukh Khan | Bipasha | Amitabh, Rani | Yash Chopra | Ram Gopal Varma