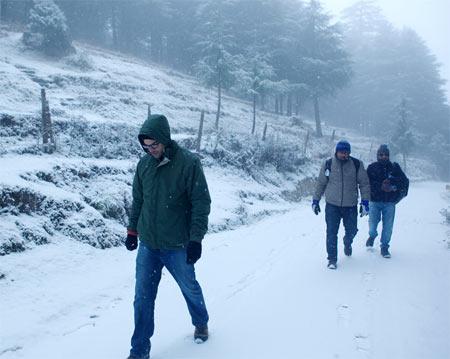 Ranveer Singh takes a keener interest in his new film Lootera than a leading man needs to.
Ranveer Singh is taking more interest in his latest film
Lootera
than the leading man usually does.
In fact, since he hasn't signed any other film, Ranveer is unofficially assisting director Vikramaditya Motwane and checking on the locations.
Apparently, when the location was shifted from Dalhousie to Bengal at the last minute, and when Ranveer heard the Bengal location was the infamous Puruliya where a mysterious arms and weapons consignment had once been dropped (in 1995), Ranveer insisted on getting there first to make sure the place was safe for his leading lady Sonakshi Sinha.
This isn't the first time that Ranveer has tested the waters. Earlier when Kashmir was snowed under, Ranveer insisted he go to Dalhousie alone to check out the density of the snow.
Producer Vikas Bahl confirms, "Yes, Ranveer did visit Dalhousie prior to shooting. He insisted on exploring the snow-scape with the unit. He stayed outdoors in the freezing cold for one whole day and returned convinced that we'd have to postpone our Dalhousie schedule. Sonakshi was warned just in time. The snowfall this year in that area is the most intense in 17 years. Our unit needed hot water to open the doors of the cars."
The unit will have to return to Dalhousie in February when the snowfall would hopefully be less dense.
Says Bahl, "About 40 percent of the Ranveer-Sonakshi romance in Lootera unfolds in the snowfall. So there's no getting away from the snow. The rest will be shot in Puruliya."
Apparently, the producers has lost Rs 1 crore by the postponement of their schedule in Dalhousie. They hope to make up for lost time and money after the Puruliya schedule. The person who seems most traumatized by the unscheduled change is director Vikramaditya Motwane.
Explains the producer Vikas Bahl, "It's easier for the rest of us to relocate ourselves but Vikramaditya has to reposition his entire creative process from one state of mind to another, so that we don't waste any more time and the stars' dates."
But looks like he has no choice in the matter.