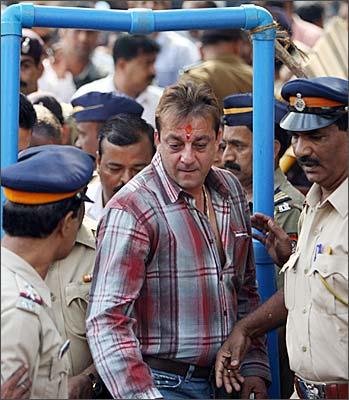 Sanjay Dutt calls people 'Mamu' but ironically, his own nephew calls him by his name.
"My four month old nephew Siddharth refuses to call me 'Mama,' 'Mamu' or 'Uncle.' He calls me Sanju," Dutt says.
Siddharth is the son of Sanju's younger sister, Priya, a Congress Member of Parliament.
The word 'Mamu' became famous thanks to Sanju's films, Munnabhai MBBS and Lagey Raho Munnabhai.
"I guess he knows that 'Mamu' is patented by me and only I can call people Mamu, nobody else," Sanju joked with reporters after the hearing of his case by Judge P D Kode came to an end on Thursday.
Judge Kode postponed Sanjay's case to next week along with three other accused -- Russi Mullah, Kersi Adjania and Yusuf Nullwala.
Talking about Siddharth, Sanju says, "There is not a day that passes without me meeting him. In fact, whenever I go to his home, he knows that I have come just by the way I ring the doorbell."
While he looked tense sitting with the rest of the accused in the courthouse, Sanju was quite upbeat about the third installment of Munnabhai, called Munnabhai Chale Amrika.
"It has a beautiful story," he says. "It begins with Circuit (Arshad Warsi) and me sitting at Dhobi Ghat and watching television, and suddenly American President George Bush appears on screen. In his ignorant tone, Circuit asks me who that man is, and I say that he's the Mukhyamantri of America. Then I tell him to buy two tickets for America to meet Bush! We will go to the US to teach Bush some Gandhigiri."
The film's shooting will begin next year, after director Raj Kumar Hirani's next film with Shah Rukh Khan.
Presently, Sanju is shooting for three films, Kidnap, Mr Fraud and Alibaug.
"I am happy that my role in Shootout At Lokhandwala was appreciated by everyone. It did very well at the box office," Sanju concludes.
Text: Syed Firdaus Ashraf | Photograph: Sajjad Hussain/AFP/Getty Images