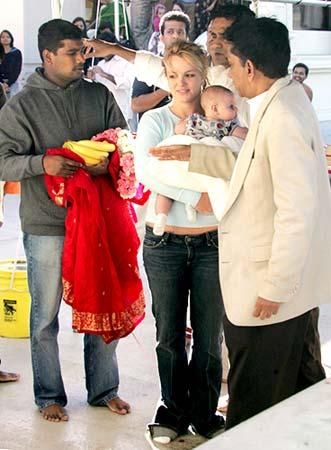 Pop princess Spears' latest interest appears to be Hinduism.
The new mom took four-month-old son Sean Preston to the famous Malibu Hindu Temple recently, and offered prayers.
In a photo-op that could fan tabloid flames, husband Kevin Federline was absent. There has been growing speculation that the two have had a serious falling out in recent weeks.
But Britney seemed in control (and, it must be said, more fit than some other recent pictures) as she wore the bindi and sat through rituals conducted by the temple priests Narasimha Bhattar and Krishnamachary.

The singer, born a Baptist, is reportedly also interested in Hindu theories of reincarnation, and is currently undergoing sessions with a mystic to understand the same. Tabloids claim she now believes her former life was as a 'sheepdog that worked in a farm in Virginia'.
Malibu Temple president Nadadur Varadhan welcomed Britney, and explained the various tenets of Hinduism as well as the significance of the rituals being carried out.
'She showed a lot of interest in the religion,' Varadhan said. 

Britney promised a return to the temple, saying she would participate in more elaborate pujas in the near future.