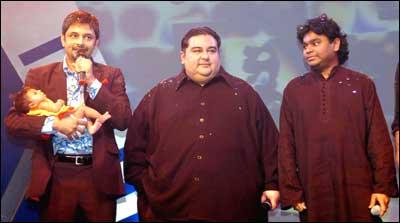 There are many talent hunts on television, but few can boast of a jury this big.
Channel [V]'s Samsung Super Singer features the iconic A R Rahman and larger-than-life pop sensation Adnan Sami.
Posing with the two heavyweights is the winner, Ravindra Upadhyay, a lawyer from Jaipur.
The talented singer, who bears a striking resemblance to Sukhwinder Singh, is cradling his two-month old baby.
Upadhyay wins a two music album contract with Times Music, a chance to playback for music director Himesh Reshammiya in a film and a three-year contract with Channel [V].
Photograph: JA/Saab Press