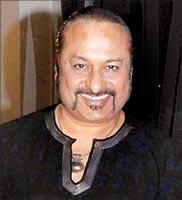 Singer-composer Leslie Lewis started his work as a musician with R D Burman. He played guitar in Burman's troupe.  

On Burman's 19th death anniversary, Leslie speaks about the star composer and how his music inspired him in his youth.

I grew up listening to R D Burman. I was closely associated with the industry even before I entered it because of my famous choreographer father (P L Raj).

My father would go to recording studios to listen to the compositions that he had to choreograph. He has choreographed some interesting songs such as Khaike paan Banaraswala from Don and the songs in Sholay.

So, I have seen R D's work since I was a kid. He was a passionate composer and influenced by South American and Latino music.
I grew up listening to that music. He was also influenced by western instruments and so was I.

I started the trend of remix in India; I did the remix of the album Rahul with Ashaji (Bhosle).

I think I understood R D's vibe and understood his music better to give a new sound to it. (After Rahul he also did Janam Samjha Karo with Asha Bhosle).
 
When I started playing the guitar, I worked with R D for a short while.
I remember one incident during a recording.

Normally, during lunch and tea breaks everybody would go out of the studio. But one day I decided to stay back and was playing one of my compositions on the guitar.

Suddenly, I heard the same composition being played on the piano by someone. I looked around and it was R D Burman playing the same tune!

After listening, he said, 'very nice music'. I was very happy as that was a boost for a youngster like me who was just starting his career in music.