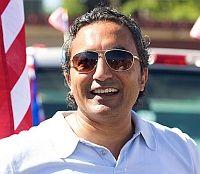 Ami Bera, a California-based Indian-American physician, was on Friday sworn in as member of the United States House of Representatives, becoming only the third from the community to enter the Congress.
Bera is the third Indian American -- after Dalip Singh Saundh in 1950 and Bobby Jindal in 2005 -- to have ever been elected to the House of Representatives. He was sworn in as a Member of United States House of Representatives by House Speaker John Boehner.
Noting that being sworn in as a member of the US House of Representatives is a "culmination of American dream" for his father who migrated from Gujarat in 1950, Bera said that besides working on his priority areas of health care and education, he wants to help strengthen the economic relations between India and the US.
"My father migrated in 1950s from Gujarat and this is a culmination of American dream for him. He worked hard to see his son to be sworn in today in the House of Representatives. It's really the culmination of everything," Bera told PTI in his first media interview at his new Congressional office at the Capitol Hill.
Democratic lawmaker from California's 3rd congressional district, Bera has been made a member of the powerful House Foreign Committee, where he is likely to play an important role in shaping the foreign policy of his country and work towards achieving his goal of strengthening economic -- agricultural in particular -- relationship between India and the US.
The only Indian-American currently serving in House of Representatives, Bera said health care would be on the top of his priorities.
"Obviously health care has to be about patients," he said.
Bera is the part of America's 113th Congress which also has 43 African American members.
Noting that he benefited from a strong educational system, Bera said he wants to make sure that the kids get the best education.
A first generation American, Bera attended California's public schools from grammar school, to community college, through medical school, earning both his BS and MD from the University of California, Irvine.
"Investment in education is an investment in jobs," he said.
"Then certainly looking at developing broader partnership in Asia, in particular between the US and South Asia is going to be very important strategically and economically," he said.
Bera who has been made a member of the House Foreign Affairs Committee, said he would be joining the Congressional Caucus on India and Indian Americans.
"I think, there is a strong economic relationship there (between India and the US) and certainly for California," he said.
His particular emphasis was on the agricultural sector.
Bera said his November electoral win "hopefully serves as an inspiration to" the young Indian American community.
His father Babu Bhai Bera said it was hard for him to
"It is hard to believe," Babu Bhai Bera told PTI.
 When in 2008, during a family Christmas party, Dr Bera announced his decision to run for the US House of Representatives, the entire Bera family came out in support, the father said, adding that he knew that this is not going to be easy.
"But it is the hard work, determination of him (Dr Ami Bera) and his team of volunteers made this happen," Babu Bhai Bera told PTI in an interview standing in the corridors of the historic Longworth House Office Building, where his son has been allotted an office in his capacity.
Babu Bhai Bera and his other family members including his son flew in from California to be part of this historic occasion. Bera's mother- who served as a school teacher for 35 years -- could not make because of sudden illness.
According to the elder Bera, their purpose was to give the best of the education to their children and that's what they did.
Babu Bhai Bera also thanks the senior leadership of the Democratic Party in particular former US president Bill Clinton to have endorsed his son and campaigned in his favour.
Picture courtesy: Ami Bera's website