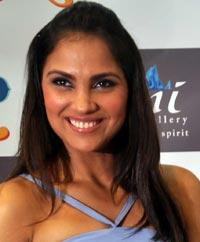 Lara Dutta, who recently celebrated her
baby shower
with close friends and family, is planning to return to films after her baby is born in February.
The actress is set to start a film in May for her production company Bheegi Basanti which will might have her in the lead role.
The actress confirmed the news, "I am definitely producing another film in May 2012 and it will have me in the lead. Like
Challo Dilli
, the pairing will be very unconventional in this one too. In case I can't get before the camera, the film will be pushed to August and another film without me in the lead role, will go on floor in May."
The actress and her tennis star husband Mahesh Bhupathi have their hands full at the moment. She says, "Mahesh has the Olympics to prepare for and I have motherhood to look forward to. So we are preoccupied right now. But I most certainly
plan to pursue my career as an actress and producer. It's something I learnt from Shah Rukh Khan during
Don 2
. He told me he was happy to see the actresses turning producers and advised me to continue with my career."
Lara's only release until she returns after motherhood is
Don 2
. "It's a small role. I did it because I wanted to work with Farhan Akhtar and Shah Rukh Khan," she says.
Films may be on the backburner for now but the actress is all set to produce a pre-natal yoga video. She informs us, "Pregnancy is treated like an illness in some sections of our society. I've been my normal self during pregnancy. I want other women who get nervous and anxious to experience the same comfort as me and to not feel awkward about their weight or baby bump. Have I been conducting myself with dignity and grace? I don't claim any exclusivity on the condition that I am in. I just feel motherhood should be a happy stress-free period for all women."
Ask Lara about whether she wants a boy or a girl and she says. "Mahesh and I have no preferences.We're just happy we'll be parents..."