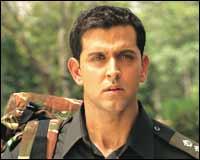 Aiming high for a big chunk of the lucrative overseas market, Lakshya opened on 91 screens in North America and United Kingdom on Friday, but enjoyed decent, though unspectacular, numbers.
Don't miss the Rediff Lakshya Special!
Director Farhan Akhtar's second film, which arrived with far more hype than his first film, Dil Chahta Hai, grossed $380,000 on 59 screens in North America, and about $220,000 in the United Kingdom.

In America, Lakshya was at the 20th position on the box-office list; in UK, it was 7th on the list. The American box office was led by the surprise hit, Dodgeball: A True Underdog Story, which grossed $30 million in three days, while in UK, Harry Potter And The Prisoner Of Azkaban took $6 million in its third weekend.

"We are pleased with the opening, especially keeping in mind that many people had no idea what exactly Lakshya is about," said Sridhar Sreekakula, who runs the UTV distribution network in North America. "Many thought it was yet another LoC."

But word of the mouth for the film has been strong, he said. He said he had watched the movie with the audiences in Houston and several other cities. "This is a film with strong legs," he said, adding that despite the arrival of Deewar, the Hrithik Roshan-starrer Lakshya will dominate the desi box office.

"We feel this is one of those special films that come around once in a while, that actually build as time goes on," he said. "I think once people hear from their friends what the film is about, we will probably see the next weekend BO even larger than this weekend's BO."
If that happens, it certainly will be an unprecedented development. Most desi films come down by about 50 percent in the second weekend. Only a handful of desi films like Subhash Ghai's Taal have either maintained almost the same box-office in the second weekend, or come down by just about 20 per cent.

One of the biggest desi hits abroad, Taal opened with about $650,000 in North America. Even if Lakshya comes down by about 30 per cent next weekend, it will be a significant victory. In any event, it will have an interesting challenge ahead.
Meanwhile, the Shah Rukh Khan hit Main Hoon Na, with its $1.8 million gross in North America still remains the champion. And it will be a challenge for the Shah Rukh Khan starrer Swades, scheduled for August 15 through UTV, to beat that record.

UTV is a newcomer on the distribution scene in North America. The film's strong opening, Sreekakula said, "signals that the public's appetite is ready for good quality, sophisticated family entertainment with strong messages of personal maturity, growth and honouring one's responsibilities."

Pakistanis and Bangladeshis, who constitute a significant core of overseas audiences, stayed away from the film because it is seen as a war film. "We are expecting them to see it in the coming weeks," Sreekakula said, "because they too would have heard the film is something else."

UTV had avoided stills of the film showing its war background, but even then, some people thought it was on the lines of LoC. "But the fact it has done far significant business than LoC shows it is another kind of film," he said.   

"Even Indians who had stayed away thinking it is yet another war film," he said, "could see it in the next week."

The film will continue to be shown on the same number of theatres as in the opening week, he added. The movie will continue past the July 4 holiday weekend, he added.