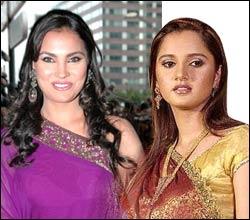 "I must say it was a good experience," says Amitabh Bachchan about the latest celebrity special on Kaun Banega Crorepati 2, bringing together tennis sensation Sania Mirza and beauty queen-turned Bollywood star Lara Dutta.
"We've got Sania and Lara together for a Children's Day special," says Star TV Chief Operating Officer Samir Nair.
"Why these two? Well, Sania needs no justification. She's a youth icon, and though she's the queen of endorsements, she needs no endorsement. Getting her on the hot seat was a challenge, and we proved equal to it.
"We needed a spunky, spirited woman of today to complement Sania on the hot seat. Lara fitted the bill perfectly. She's young, articulate and intelligent. They're very, very watchable together. Both Lara and Sania represent the spirit of youth and are role models for kids. Like Sania, Lara started very young. She became Miss Universe when she was in her teens," he adds.
| | |
| --- | --- |
| | Also Read |
| | |
"Ask Mr Bachchan, Lara and Sania are dynamite together."

The Children's Day special, to be telecast on Sunday, November 13, has many interesting interludes, not just with the two star guests but also involving their families.

"Sania's father is on the show along with her mother and sister. Everyone always wanted to know what Mr Mirza is like; Mr Bachchan finds out for us. AB talks quite extensively with Sania's dad about many subjects, including her money," Nair reveals.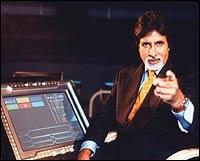 Sania's dad reveals how expensive it is for his star daughter's entourage to be carted from one international venue to another.
"But the best part of the show is the chemistry between the two ladies -- very very appealing," Nair adds.
How much prize money do this dynamic duo finally obtain? No one's officially telling. But Sania and Lara apparently go up to Rs 1 crore, and then lose money by giving the wrong answer.
Star TV has at least two more celebrity specials lined up this season on KBC. Hrithik Roshan will appear with Priyanka Chopra, and if all goes well, we'll see Abhishek on the hotseat with his mega-anchor dad in the grand finale.