Surya and Jyothika made their first public appearance a day after their
wedding
to a rather hostile press. There was pandemonium at the venue when the couple, along with Surya's father, yesteryear actor Sivakumar, arrived to meet the media. The reason for the hostility: only a selected few media persons had been invited to the much awaited Surya-Jyothika wedding.
Sivakumar explained the reason -- he said they had to change the venue from a large hall in the city to a five star hotel when they learnt that busloads of Surya's fans from Tamil Nadu and Andhra Pradesh -- more than 50,000 of them -- were likely to descend on the city to attend the wedding.
The family also started getting frequent calls from a crazy Surya fan from Malaysia, asking them to cancel the wedding and the reception. Two months ago, the same fan had made hoax calls to the police claiming Surya's house was a hideout for terrorists.
"It was only due to security reasons that we decided to have the wedding at a smaller and safer place," Sivakumar said.
Then, Surya took over and announced his bride would not continue to act in films as they wanted to start a family soon. Surya also said he preferred staying with his family to living separately. A new room was being added to his father's house for the newly married couple.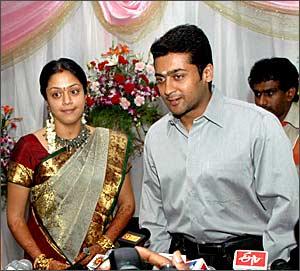 Surya and Jyotika will be going to Europe for their honeymoon.
Jyothika thanked the media for their 'excellent coverage' of the wedding and confirmed what her husband had said.
"I have worked hard for 10 years. Now, I want to start a family and devote more time to my personal life," she said. "I am happy I got married into a good family like Surya's."
Jyoti has been acknowledged as a talented artiste and the Tamil film industry will definitely miss her presence. The feeling of loss was similar when Shalini, another extremely talented actress, bid goodbye to films after her marriage to star Ajith a few years ago.
Though Jyothika's last release with Kamal Haasan, Vettayadu Vilayadu, is doing extremely well, her latest release, Surya's home production Sillunu Oru Kathal, has been a disappointment at the box office.
Photographs: Sreeram Selvaraj