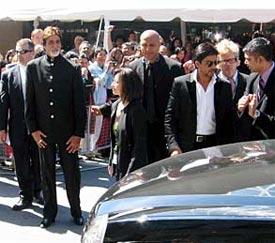 The Toronto International Film Festival (TIFF) stopped traffic in the Canadian city last year when it brought Bollywood stars such as Amitabh Bachchan, Shah Rukh Khan, Aamir Khan, Priyanka Chopra, John Abraham and Rani Mukerji to its annual film festival.

There isn't a major Bollywood star whose film has not been shown here.

Some have seen their films being warmly received by the South Asian audiences here, even as they have been pronounced duds in India and other venues abroad.

Though the festival draws movies from more than 60 countries, the Indian film contingent comes only second to Hollywood and British star-powered delegates.

No reputed international film festival has embraced Bollywood in such a big way as the Toronto event. It has spread the red carpet for big-budget Hindi movies as well as independent cinema from India, including films in Marathi, Konkani and Bengali.

TIFF has shown some of the best films of Adoor Gopalakrishnan, Karan Johar and Mani Ratnam, and debut films of directors such as Nandita Das. This year, a whole bunch of new filmmakers from Mumbai will show their films.
You will not see Shah Rukh or Priyanka or Freida Pinto at TIFF this year. Instead, the new heart throbs, Arjun Kapoor and Parineeti Chopra, with their film Ishaqzaade, may represent Bollywood. So could some of the young artists in Deepa Mehta's Midnight's Children, especially Shahana Goswami. They will be shown in the City to City programme, which focuses on Mumbai this year.
TIFF has announced 10 films in this section, in addition to the red carpet galas of Midnight's Children, The Reluctant Fundamentalist and English Vinglish.
The festival's new section, TIFF Cinematheque, will feature the restored version of the Ritwik Ghatak classic in Bengali, The Cloud Capped Star.
The 1960 film, released in India as Meghe Dhaka Tara, is the story of a young refugee woman struggling to keep her family out of poverty on the outskirts of Calcutta. TIFF notes it is 'a fiercely moving masterpiece by the great, perennially under-recognised Indian auteur.'
This dark melodrama is considered to be one of Ritwik Ghatak's best films. Not well known outside India, knowledgeable critics put Ghatak second only to Satyajit Ray.
Cameron Bailey, artistic director of the festival, says the large South Asian audiences in Toronto and other festival-goers will get the chance to see the many unconventional films emanating from Mumbai. Filmmakers in Mumbai are exploring taboo subjects and are more willing to push the envelope, he suggests.
Some of them are:
The Bright Day directed by Mohit Takalkar: The film is about a young man who abandons his girlfriend and family to set out on a spiritual quest across India. The film 'charts a soul's progress,' says its director.
Gangs of Wasseypur: Part One and Part Two directed by Anurag Kashyap: The brutal and gripping gangster epic that chronicles the turf war between two competing criminal families during the tumultuous era of Indian independence and industrialisation.
Ishaqzaade, directed by Habib Faisal: A (comparatively speaking) small budget film for the Yash Chopra empire, it became a medium range hit in India but has not been seen in Canada. Set against political violence in India, the love story features a Hindu, Parma (Arjun Kapoor), and Muslim, Zoya (Parineeti Chopra), who seek to escape the restrictive demands of their families.
Miss Lovely from Ashim Ahluwalia (whose mock documentary Call Centers in India: John & Jane was well received at Toronto a few years ago) unfolds against the low-budget, sex and violence films of 1980s India. It tells the story of two brothers whose film disturbs the Bollywood underworld, and their lives become more complicated than that of the characters in their films.
Mumbai's King directed by Manjeet Singh: Rahul roams the streets with his balloon-seller friend Arbaaz, as they seek to escape the reality of their lives by gambling, roasting stolen potatoes, stealing an auto rickshaw for a joyride, and chasing girls. But soon Rahul has to look after his violent father, who had forced him to live on the streets.
Peddlers directed by Vasan Bala: A thriller exploring the lives of a rookie cop, a streetwise orphan and a beautiful young ex-teacher that collide in the drug underworld of Mumbai. TIFF calls the film an 'edgy, powerhouse thriller that exemplifies the verve and excitement of India's new independent cinema.'
Shahid directed by Hansal Mehta: The true story of slain human rights activist and lawyer Shahid Azmi, who was killed in 2010 by unidentified assailants in his office. 'From attempting to become a terrorist, to being wrongly imprisoned under a draconian anti-terrorism law, to becoming a champion of human rights, Shahid traces the inspiring personal journey of a boy who became an unlikely messiah for human rights, while following the rise of communal violence in India.' (TIFF note)
Shanghai directed by Dibakar Banerjee: The film was critically acclaimed but stumbled at the box office. The director of Love Sex Aur Dhokla has made a political drama in which Abhay Deol plays an investigator seeking the cause behind the assassination of a firebrand politician, complicated by the actions of the politician's lover played by Kalki Koechlin.
Ship of Theseus directed by Anand Gandhi: The acclaimed Indian playwright tells the story of three disparate people in Mumbai -- a devout monk stricken by illness, a blind woman whose sight is suddenly restored, and a stockbroker who sets out to combat the illegal international trade in human organs. The three do not know they are linked.
The Toronto International Film Festival runs from September 6 to 16, and draws critics and mainstream audiences from across the world, as well as movie lovers from the nearly 3 million-strong South Asian and Caribbean immigrants in the city.
Reader Vinod Makkar sent us a picture of Amitabh Bachchan and Shah Rukh Khan at the Toronto International Film Festival in 2006. If you encounter/meet/see film or television personalities and take a photograph or a video of the star(s), please scan the photograph(s) and upload it on ZaraBol. We will feature the best images and video clips right here on Rediff Movies.