They come, conquer and promptly disappear!

It happens to almost all winners of talent shows. After the public hysteria dies down, and a couple of albums are released, the winners just seem to disappear.

Remember Abhijeet Sawant, the first Indian Idol? Or the second runner up, Amit Sana? He was last seen strolling unnoticed in a suburban Mumbai shopping mall.

"Unfortunately, we haven't found a single singer from these talent hunts who has clicked big time," says Bhushan Kumar, Managing Director, T-Series music. "We haven't produced any big singers so far, like Himesh Reshammiya, from these programmes. It will take us time to produce a genuine super singer from these contests."

One can't deny, however, the fact that many have made it big as playback singers. Some like Kunal Ganjawala, Bela Shende, Shekhar Ravjiani (now a music director), Mohammad Vakil, Rishikesh Ranade, Shreya Ghosal and Sanjeevani Bhelande, for instance.

In fact, Vidhu Vinod Chopra heard Sanjeevani on television and offered her a chance to sing for his film, Kareeb. Sanjay Leela Bhansali gave Shreya a break in Devdas after hearing her on Zee SaReGaMaPa Challenge. 

Says Shekhar Ravjiani, music director of Vishal-Shekhar

fame, "These talent hunt contests are a wonderful platform for aspiring singers. They are a fantastic opportunity for those who want to showcase their talent."

Shekhar, who was himself an aspiring singer on a talent show, adds that they give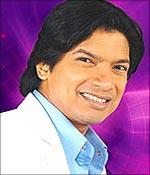 opportunities to many unknown faces in India. "Vishal and I have already signed on some aspirants from our show (Zee SaReGaMaPa Challenge). We will produce an album with them," he adds.
"These programmes give people a platform, as well as a chance to prepare themselves," says Shaan, who hosts Amul Star Voice Of India, another reality talent show.
Sonu Nigam puts in in a unique way. "If you compare Mughal emperor Aurangzeb's time to our time, you will get the answer. In his time, music was not given a platform, so there was no talent. Today, we have so many platforms for aspiring singers. At least they have an opportunity to prove themselves."
Film trade analyst Komal Nahta has a different point of view. "Talent hunt shows have only helped television channels so far," he says. "Winners have not been able to hold their celebrity status long and are remembered for only a year."
And therein lies the problem. Not many are able to hold on to their fame or sustain their celebrity status. While some manage to make money by going on nationwide stage shows, they are short-term options viable only as long as there is interest in the 'star'.