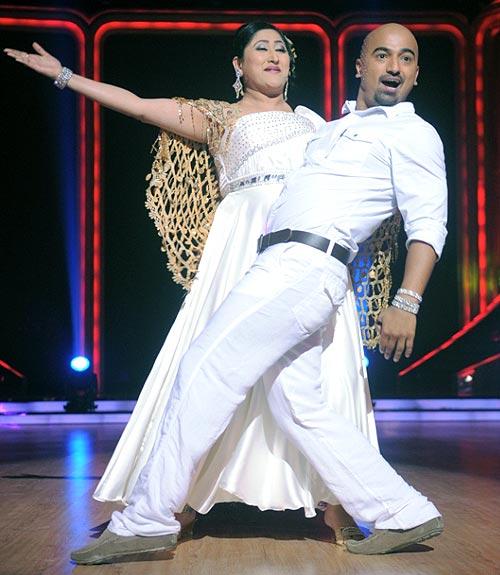 Television actress Jayati Bhatia's stint on dance reality show Jhalak Dikhhla Jaa 5 came to an end last weekend.

A trained Odissi dancer, the 41-year-old actress, who plays Mataji in the soap Sasural Simar Ka, impressed the judges with her grace but could not win points with her tap and salsa dancing.

She was always vocal about her fear of dancing in heels, and tried to overcome it in a special challenge episode. Unfortunately, it didn't help.

She talks to Rajul Hegde about her experiences on the show.

You didn't get good comments from the judges for the last two performances. Did you then expect your elimination?

I was prepared to be in the danger zone but didn't expect to get eliminated. Other dancers, who were worse than me, ended up with better marks.

I love dancing and wanted to remain in the competition for a few more weeks and learn different forms of dance, especially ballroom dance.
After the not-so-good comments from the judges, I thought I may get another chance.

But it's okay; it's been great to be part of an international format that is so popular worldwide.
People never thought I would be able to do what I did on the show. I hope I have inspired ladies of my age, who have nothing to do at home (smiles)
You have a fear of heights. Did you overcome that?
No. I wanted to do aerial act and overcome the fear but I got eliminated before I could try it.
I had a fear of dancing in heels and I have been able to overcome that. That was a great motivator. Now I want to perfect the art!
So will you join dance classes?
Yes. I have joined Jaikumar Nair's dance classes (Darsheel Safary's choreographer). It will start from August 7.
Earlier I used to rehearse after my shooting schedules; now I will utilise that time for my dance classes. 
Hats off to Gurmeet Chaudhary, who rehearses after his daily shooting schedule and still manages to get good comments from the judges!
Do you think actors in daily soaps have a better chance with votes?
I don't think so. The only real daily lead star is Gurmeet Choudhary (in the show Punar Vivah) and Pratyusha Banerjee (in the show Balika Vadhu). She's already eliminated.