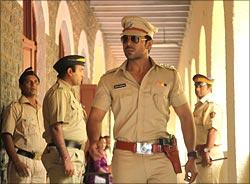 Writer Salim Khan claims that the copyright wrangle over the Zanjeer remake is nothing personal. It concerns a larger issue.

"We aren't fighting only a copyright issue. It's also a moral issue. If we allow this to go, other writers who are no more and who left behind families in financial need are liable to get affected. Let future generation of a writer's family benefit from our action against Zanjeer. If we don't do this, anyone can come along and remake anyone's film without compensation," Khan said.

The 1970 film Zanjeer was co-written by Salim Khan and Javed Akhtar and produced by Prakash Mehra.
Now, Amit Mehra, son of Prakash Mehra has remade the film in Hindi and Telugu -- the latest in the long line of 'remakes' of successful old films. Besides being a bone of contention between the heirs of Prakash Mehra, the right to remake the film has been challenged by the scriptwriters of the original film.

Khan admits there is an acute shortage of scripts these days and hence the rash of remakes. "The reason for this is that people don't read any more. There's no literary culture in our industry.
"There was a time when potential writers spent their free hours reading the latest bestsellers. Now they just put on a DVD or watch television. Unless they read where are today's writers going to come up with good scenes and dialogues?
"In the entertainment industry, you can become anything without a proper education. But not a writer.
"When I came to Mumbai, I was work-less. I spent my time going through every single book in a library in Mahim (a suburb of Mumbai). Soon the librarian told me there were no books left for me to read."
Regarding the copyright of Zanjeer Khan says, "The matter is very simple. They should have come to us to negotiate. The South Indian remake rights of Zanjeer were with us. We have sold only the Tamil rights, not Telugu. So how can they remake Zanjeer in Telugu?
"At the time when Javed and my career in writing was taking off, the rights of Hindi films were sold into South Indian languages. But only after the films were successful in Hindi. We used to retain the rights for the South Indian remakes until the Hindi original was fully exploited in all the territories."
Khan says he has proof that the only South Indian language for which the remake rights of Zanjeer have been sold is Tamil. "Hence the Telugu remake rights are with us. Even the Hindi remake rights are not with the producer. We didn't give any producer perpetual remake rights."
Moreover, Zanjeer is not a script that renders itself to various interpretations. "What the makers of the Zanjeer remake are doing is wrong on so many levels. We are the copyright owners of the script. If we allow them to remake it without consent or compensation, others would do the same to writers who are in need of money.
"If we were questioning the Zanjeer re-make merely because we wanted to create a hurdle, then we'd have done the same with Seeta Aur Geeta which seemed to have echoes in Chaalbaaz and Kishen Kanhaiya.
"Unlike our Seeta Aur Geeta, Zanjeer is an original idea which has not been done in other forms. The theme of twins swapping places in Seeta Aur Geeta was earlier done in Ram Aur Shyam and later, after our film, in Chaalbaaz and Kishen Kanhaiya. All these films were inspired by Daphne du Maurier's 1957 novel The Scapegoat.
"Some 35-40 films have been done on this theme. Now we hear Seeta Aur Geeta is being remade with Katrina Kaif. That's fine by us. We aren't against remakes per se. If a filmmaker decides to give his own spin to our script it becomes a win-win situation for us. If the remake is a hit we get praised for writing the original. If the remake doesn't run we still get praised in comparison."
However, with Zanjeer, Salim-Javed are fighting a larger copyright issue.
Says Salim Khan, "By the grace of God we are financially well off. But what about those children and grandchildren of writers whose films are remade and who are not in a good financial condition? They need the compensatory money.
"The humane aspect of our fight covers a wider platform than a personal battle. Today a big-budget film spends Rs100 crore in the making and then they make Rs 150 crore. Even a broker gets two per cent commission. Shouldn't the writer get five per cent compensation?"
He says a great deal of thought has gone into the action the writers are taking against the makers of Zanjeer. "The copyright laws clearly state that the writer has a moral authority over his property and no changes can be made to the original.
"If the Zanjeer re-makers claim they have changed our story entirely, then why did they announce it as a Zanjeer remake? And if they are not remaking the Prakash Mehra-Salim-Javed film, and they are making something else, why is Prakash Mehra's son, the producer Amit Mehra, compensating his brothers for Zanjeer's remake rights?" Salim Khan asks pertinently.