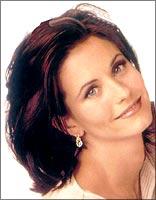 Former Friends star Courteney Cox is reportedly in talks to appear in a guest appearance on an upcoming episode of Desperate Housewives.
According to the New York Post, the 41-year-old is negotiating to play 'a mental-institution escapee.'
It would be Cox's first appearance on television since the birth of her daughter, Coco Riley.
Cox had earlier confessed she finds it difficult maintaining friendships since having baby daughter Coco in June this year.
Strip no bar for Jessica Alba
Actress Jessica Alba has claimed that she has no inhibitions in going nude for a scene, provided the story demands that.
The sexy star, who will next be seen in Into The Blue, has admitted that she would bare all for a good role where it is
necessary for her to go naked.
'"I'm going to have to face that when a big director who I really respect has an amazing story -- it might be necessary for me to do a nude scene,' Sun quoted her as saying. 'But right now, I couldn't sleep well at night being naked in anything. My father would lose his mind!'
Jessica, who is currently dating actor Cash Warren, also revealed she thinks European women are more liberated than American girls.
'I'm actually okay with my body, and the fact that I have curves and flaws,' the paper quoted the actress as saying.
'I think that European women have a much healthier attitude about bodies and sex, and I have more of that mentality,' she  added.
Queen rules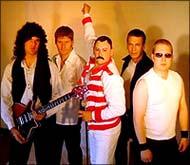 We are the champions by rock band Queen has been voted the world's favourite song in a new poll conducted by Sony Ericsson.

 

According to Sun, the 1977 anthem beat off competition from Michael Jackson's Billie Jean, which

has been voted Britain's favourite song.

 

Surprisingly, in the UK top 10 list, Jackson's name appears seven times, and Queen's Bohemian Rhapsody is at third place.

 

The world's top 10 songs are:

 

1. We are the champions: Queen

2. Toxic: Britney Spears

3. Billie Jean: Michael Jackson

4. Hotel California: The Eagles

5. La Tortura: Shakira

6. Smells like teen spirit: Nirvana

7. Yesterday: The Beatles

8. One: U2

9. Imagine: John Lennon

10. Sultans of swing: Dire Straits

 

Britain's top 10 songs are:

 

1. Billie Jean: Michael Jackson

2. Thriller: Michael Jackson

3. Bohemian rhapsody: Queen

4. Beat it: Michael Jackson

5. Angels: Robbie Williams

6. Smooth criminal: Michael Jackson

7. We've had enough: Michael Jackson

8. Black or white: Michael Jackson

9. You rock my world: Michael Jackson

10. Welcome to the jungle: Guns N' Roses

 

Diaz and Roberts dress shabbily? 

 

Celebrity designer Valentino has described America's Sweethearts heroine Julia Roberts and Charlie's Angels star Cameron Diaz as dressing like bag ladies.

 

In an interview with German newspaper Die Zeit, the designer said the two actresses looked 'unkempt in jogging trousers'.

 

'They look like homeless people. You see Julia Roberts and Cameron Diaz running around looking unkempt in jogging trousers, they look like bag ladies, like homeless people. In the past, you never saw that,' he was quoted by the BBC as telling the paper.

 

The Italian designer made his name in the 1960s and still designs for the Valentino fashion group.