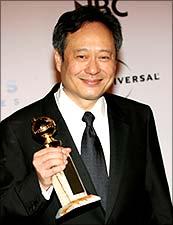 Two years ago, Ang Lee directed The Hulk, which made money. 
Grossing about $250 million across the world, the comic book adaptation got disastrous reviews and was savaged by fans, and the Crouching Tiger, Hidden Dragon filmmaker (left) was virtually written off.
Now, the filmmaker -- known for his eclectic filmography that includes the quintessentially bitter American family saga The Ice Storm -- has made a very small film. Which has swept the Golden Globes.
Brokeback Mountain, based on an acclaimed novel by Pulitzer Prize-winning journalist Annie Proulx about two star-crossed gay ranch hands and set more than 40 years ago, is not Lee's first homosexually themed film. His art-house-hit 1993 debut The Wedding Banquet told the story of a gay Chinese man in New York who runs into complications when his parents arrive from Taiwan for his 'wedding'.

But Brokeback, with four Golden Globe wins, including Best Drama and Best Director, is emerging as his most acclaimed film, getting him even more kudos than his British film, Sense And Sensibility, did a decade ago. The new film has reconfirmed Lee's reputation as a passionate, sensitive filmmaker who can tell a love story.
Golden Globes: Complete Coverage
Globe-watchers were expecting the film to either pick up either Best Film or Best Director, with Fernando Meirelles' The Constant Gardener and Woody Allen's Match Point picking up the remaining Globe. The latter two films, and George Clooney's Good Night, And Good Luck were also in the running for the Best Screenplay prize. But the cowboys beat them all. This clean sweep augurs extremely well for Ang Lee's Oscar season.


| | |
| --- | --- |
| | Golden Globes on rediff! |
| | |
The film, one of the best reviewed 2005 movies, could show a profit in a few weeks. The $14 million movie has grossed about $32 million. A film has to earn two times its budget and advertising cost to break even.
And it has been playing in far lesser theatres than many other films on the top 10 list. Last week, the film which was at number nine on the US charts, was in 683 theatres while the Queen Latifah comedy Last Holiday was on in 2500 theatres.

At the current rate of growing, Brokeback Mountain can end its run -- with a few more expansions -- with $60 million. With a few top Oscar nominations, it could reach $80 million, and with a couple of major wins, very much on the cards right now, it will fly beyond the $100 million mark.
The most predictable award for the evening when to Philip Seymour Hoffman, who has startled the industry with his brilliant portrayal of writer Truman Capote in the biopic Capote. Hoffman won the Globe for Best Actor -- Drama, and the lack of surprise at this award just cements his Oscar chances further.
Also emerging as a strong bet for many Oscar nominations is Walk The Line, the screen biopic of country music legend Johnny Cash, which won the Best Musical/Comedy Film Globe. A substantial hit -- the film is tipped to hit the $100 million benchmark in a few weeks -- the movie also fetched Golden Globes for its leading pair, Joaquin Phoenix and Reese Witherspoon.
The Globe is particularly welcome to Witherspoon, better known for her comedy hits like Election and Legally Blonde. Last year, she nabbed Globe and Oscar nods for the Mira Nair directed adaptation of Vanity Fair.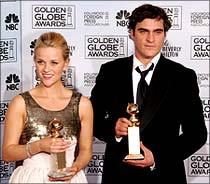 Witherspoon (left), who gets about $15 million per film severely cut down her fee so that Walk The Line, considered a risky film (for most screen bios don't fly very high), could be made on a modest budget. She played the somewhat troubled and yet resilient wife of the legendary singer.

While we have known Phoenix (right) to be a complex actor, Witherspoon has visibly been under-utilised by Hollywood.

'What adds boundless energy to Walk The Line is the performance by Reese Witherspoon as June Carter Cash,' wrote Roger Ebert in Chicago Sun-Times. While, like many other critics, he also praised Phoenix, his best praise was reserved for the actress.

While the actress holds her breath and waits for an Oscar nomination, it is worth noting that she has some formidable competition in the form of Felicity Huffman, who won Best Actress -- Drama at the Globes for playing an unattractive transvestite -- a perennial safe bet for the awards jury -- in Transamerica.