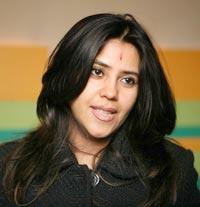 Film and TV producer Ekta Kapoor [
Images
], who was detained for questioning after being found with undeclared branded goods worth Rs one lakh at the Mumbai [
Images
] airport, has been released after she coughed up Rs 53,000 as fine and customs duty.
Customs Commissioner P M Govande said Kapoor was intercepted last night while she was walking through the green channel at the airport and on checking her baggage, she was found with personal goods worth around Rs one lakh, which were not declared.
"Kapoor was fined Rs 28,000 and she also paid Rs 25,000 customs duty for the goods," Govande added. She arrived from Bangkok at 10.45 pm on Thai airlines, carrying branded cloths," said another official.
Upon being intercepted, Kapoor had an argument with the customs officials. She was later detained and her branded clothes were valued. Subsequently, she was made to cough up Rs 53,000, the official added.
The daughter of veteran Bollywood actor Jeetendra [
Images
] was allowed to go a little after mid-night, he added. This is the fourth such incident where the celebrities were stopped at the airport with undeclared goods.