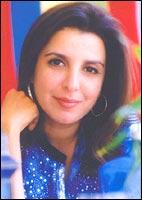 Bombay's buzzing yet again! The AR Rahman/Andrew Lloyd Webber musical, Bombay Dreams, that stirred British audiences for years but didn't quite find a Broadway footing despite a very well-recieved final showing, is now -- finally -- coming home.
Yes, Bombay Dreams is coming to Mumbai!
The logistics are currently being worked out, and a lot of details are still to be finalised. Still, it's hard to not get excited by the very prospect of what could be.
Here are some excerpts from a conversation with Farah Khan, choreographer of Bombay Dreams:
So what can you tell us about Bombay Dreams in India?
They are not sure whether it's coming, right now it's just been announced that it'll happen. Now they'll start speaking with sponsors, venues, organisers, etc, before they can even start thinking of the production itself. It's very conceptual.
Will you be involved with the project, regardless of the current 'if's?
Yes, of course I will be involved!
There are reports that the script will be changed for India. Why do you think this is necessary?
The script was changed for America also. In the US, they don't really know Indian cinema; Britain is still relatively exposed to Bollywood. So we had to explain the situations and contexts for the American audiences. In India, obviously, they'll take out the explanations. I'm not sure if they'll revert to the British script, but they might: that's for the writers to decide.
Will it do well in India?
Yes, why not.
What about the kind of scale it's made in? Indian theatre hasn't quite worked like that.
I don't think the scale they had for the show in the West is feasible for India. Theatre is not really a profit making industry in India. They can't have huge sets with fountains, etc unless they actually construct that sort of stage! Of course, they'll keep the economic realities in mind when they plan to adapt the show for India.