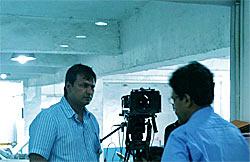 Have you ever felt lonely even though you're surrounded by people?

If you've answered yes, you should probably watch first-time filmmaker Amit Mehra's short film called Ekanth.

The 22-minute film deals with a man who has family, friends and colleagues but no one to share his innermost fears. A drupad singer (Dhrupad is a genre in Hindustani classical music), present through the film, adds to the mystery and tension of the situations.

A Ganesh Nadar asked 42-year-old Mehra to tell us more about his unique film:
Ekanth is about the feeling of isolation a man has in spite of having friends, family and colleagues.
It is a psychological drama, set in the small town of Bhopal (Madhya Pradesh [ Images ]), about a senior corporate executive who suddenly disappears under mysterious circumstances. As the cops launch a citywide hunt, it becomes clear that the people close to him have no clue of his whereabouts or the reason behind his disappearance.
The film (starring Dinesh Nair, Indira Tiwari, Deepraj Rana Swastika Chakraborty, Harish Verma, Rahul Jadhav, Saksham Sharma, Manoj Shrivastav and Seema More) cost me Rs 25-30 lakhs.
Actually, I wrote scripts for four short films but have completed one so far. I will complete the others too. They belong to different genres.
The second script is an erotic drama. It's a story about how you can't re-love even if you want to. It's about old fashioned seduction. 
The third is a political satire. It is about the lack of tolerance in our society.
The fourth is a social comedy, dealing with the war between the two sexes. How men and women misunderstand each other.
All of them will be less than 30 minutes. The other three films will cost less then Rs 25-30 lakhs. I spent more on Ekanth because it was the first, and I was very excited about it. Now, we will plan better so the others will be more economical.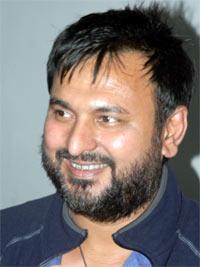 About Amit Mehra:
I was born in Kanpur but brought up in Delhi [ Images ]. I graduated from St Xavier's college. I did a course in filmmaking in that college too. I dropped out of college to assist director Debaloy Dev in Chandramukhi [ Images ] (starring Salman Khan [ Images ] and Sridevi [ Images ]).  
I got a break when I was hired to direct a sitcom for a Delhi-based television channel. After that, I did TV shows and ad films.
I have directed game shows and talk shows on TV. I used to write scripts as well.
After making ad films for four years in Delhi, I decided to go back to feature films and returned to Mumbai [ Images ].
I showed my scripts to leading filmmakers but they were not interested. I wasted quite a few years on this. Finally, my script Karma, Crime, Passion, Re-incarnation was made into a film in 2008.
I realised that I would not be able to direct a film -- even if it was my own script -- unless I put in my own money. But feature films are very expensive so I decided to make short films first. That's how Ekanth happened.