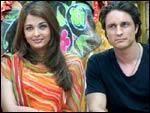 Gurinder Chadha is way ahead of the shooting schedule of her latest film, Bride And Prejudice. After filming in the United Kingdom, the cast and crew are down in Mumbai to shoot a portion of the film.
"The actors are extremely co-operative and, so far, everything is fine. We will complete the film ahead of schedule," says Chadha at Colaba's Mukesh Mills Compound (in south Mumbai).
Chadha had announced her film in January 2003 and hopes to wrap up work by June 2004. The film is scheduled for release late next year.
Bride And Prejudice
is based on the Jane Austen's classic
Pride And Prejudice
. "
Pride And Prejudice
has been my all-time favourite," says Chadha. "I am happy to make a film on the novel that is so close to my heart. I have tried to be very faithful to it and have only added some songs to give the film a Bollywood touch. I want people all over the world to be aware of Bollywood. I hope they will know more about our industry through this film.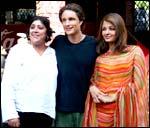 "We have been shooting non-stop for three months and 10 days. The last phase of the film will be shot in Los Angeles," Chadha adds. Some parts of the film will also be shot in Goa and Amritsar.
The film includes a song picturised on US pop singer Ashanti.
On location, co-stars Aishwarya Rai and New Zealander Martin Henderson were seen trying some bhangra steps along with Chadha, to bhangra music and the dhol.
Henderson of The Ring fame essays Mr Darcy's role in the film. Other cast members like Anupam Kher, Namrata Shirodkar, Naveen Andrews and Meghna Kothari were also present on the occasion.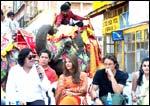 "I play Mr Bakshi, the father of four daughters," says Kher. "I have played a quieter role than my previous one in Bend It Like Beckham. There, I played a sardarji even though I'm not a sardar."
Henderson claims to be happy to be part of the project. "I especially love the bhangra and garba," he says, smiling. "It was an amazing experience. I have also picked up a few Hindi words like chalo, jaldi karo."
Rai refuses to divulge details about her role. "If I tell you, who will see the film?" she asks. "It is better I talk less as people would see my role in this film."
Photographs: Jewella C Miranda
Click here for
More Features