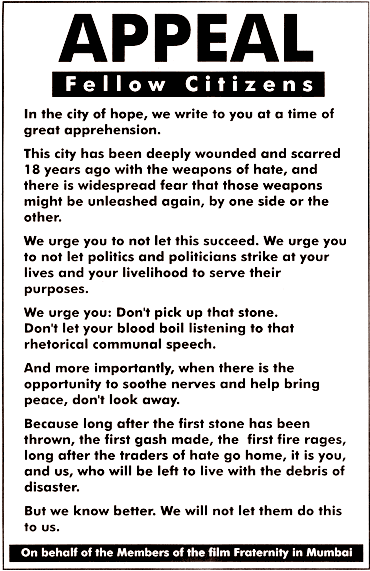 As India gears up for the historic judgement on the Ayodhya issue today, so does Bollywood.

In a first of its kind, members of the film industry have issued an appeal to fellow citizens to refrain from violence, and not let 'politics and politicians strike at your lives.'

They have also appealed to citizens to 'soothe nerves' and 'help bring peace'.

The industry obviously has best intentions at heart behind the appeal. After all, this Friday has a lot at stake for them, as two big movies hit the marquee -- Rajnikanth-Aishwarya Rai Bachchan starrer Endhiran/Robot and Priyanka Chopra-Ranbir Kapoor starrer Anjaana Anjaani.
In the picture: The film industry's appeal