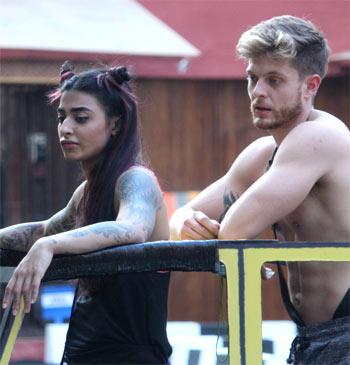 Will they be the next Upen-Karishma of Bigg Boss, Divya Nair wonders.
Highlights
Priyanka spits on Rohan.
Bani gets upset with Gaurav; finds comfort in Jason.
Priyanka gets more points than Manveer and Bani.
What's garam
The Taxi Stand task has clearly been favourable for Jhagdalu Jagga in more than one way.
She finds excuses to irritate everyone and extort money. When Rohan confronts her, she spits on him.
Anyone else would have ticked her off, but Rohan just mildly raises his voice.
Priyanka targets Lopa, but can't find her points and begins a search operation.
Gaurav, the spoilsport, finds Lopa's money bag and -- brace yourself guys, for the game changing decision -- hands it over to Jagga who is clearly over the moon!
Lopa confronts Gaurav who initially ignores her, later defends his decision, stating that Lopa is not his friend.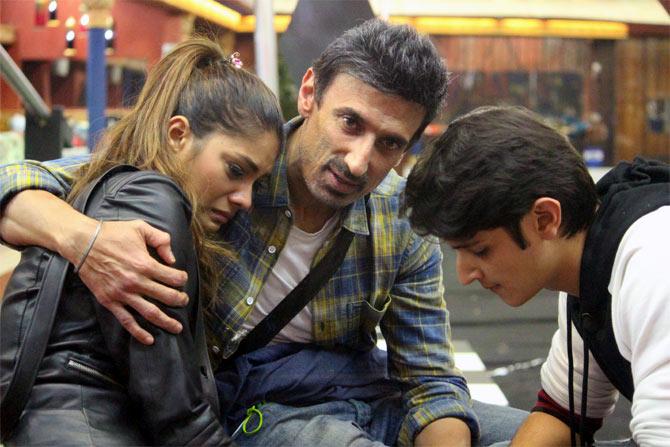 IMAGE: Lopa breaks down, Rahul comforts her.
As Lopa breaks down and tells everyone how unfair Jagga and Gaurav were, Bluffmaster Baba turns spy and follows Lopa everywhere, trying to find the mirch masala he needs to support his badtameez beti's bid for captaincy.
Why can't Bigg Boss just tie up this clown in some bathroom where there are no cameras? He is getting annoying by the day.
At the end of the task, Bluffmaster Baba gives away most of his points to Jagga who ends up winning the task and is nominated one of the challengers for the captaincy.
Lopa, Gaurav and Nitibha will compete against each other to become the second qualifier for the captaincy.
VIDEO: Gaurav shows his true colours. Lopa breaks down. Swami calls Rohan 'pagal'.
And as the lights go off -- TaDa!!! --- a new love story takes its first baby steps in the house!
Bani crawls to Jason and asks 'tumhe neend nahi aa rahi?'
Jason says he wants to give Bani a hug, but Bani points to the camera.
Jason says he feels like he's known Bani for ages. Uff... kya pakau pick up lines!
Will they be the next Upen-Karishma of Bigg Boss?
What's thanda
If you had really played it smart and convinced even 3 housemates why Priyanka is a bad choice for captaincy, Bani, you could have easily defeated her.
Manveer was hardly making any effort to win. In Manu's absence Manveer is so busy playing agony uncle to everyone that he forgot his prior determination to win the captaincy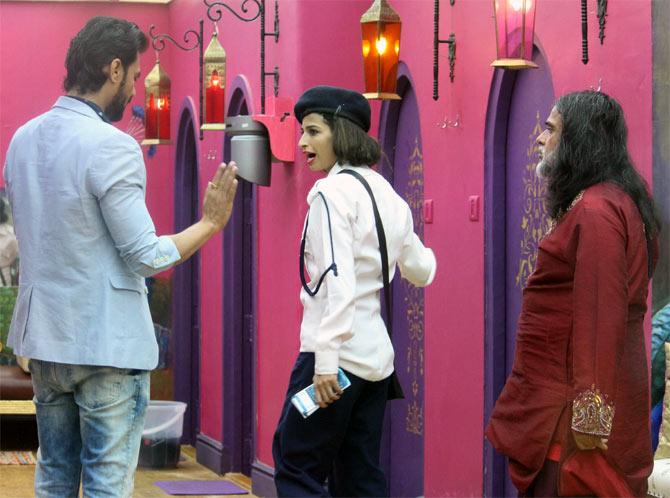 IMAGE: Spoilsport Gaurav finds Lopa's money bag and hands it over to a gleeful Jagga.
And Gaurav you are such a spoilsport that you gave away Lopa's points because you wanted to get even with her?
Like Jason and Bani pointed, you could have easily given it to Bani and made her win. But obviously, you didn't.
And you lost the only friend you ever had in the house.