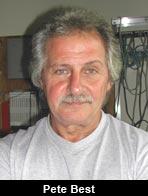 He was the Beatle you never really knew, the one who was kicked out before the Fab Four became fab.
In the early 1960s, before Ringo Starr came on and Beatlemania took off, and well before the Maharishi introduced the band to the mysteries of the East, Pete Best was their drummer: the boy from Madras whose mother told his bandmates remarkable stories of living in India.
For Pete, who recently passed through New York, the memories are limited. He was a young boy when his family moved to England. But he vividly recalls walks on the beach with his ayah Lakshmi, and enjoying the company of Gurkhas, who trained under his father.
"I remember Lakshmi packing me my little box, my wicker basket box and sort of walking me down to the end [of the street], and the bus would pick me up, and she'd go with me on the bus to school and would be waiting for me when it came back again. That was just a couple of months before we set sail for England."
Pete played alongside John, Paul and George from 1960 to 1962, but in a sense, he still sees himself as a Beatle. He and his band are currently working the American nightclub circuit; their tour is cleverly dubbed 'Best of the Beatles: The Pete Best Band,' playing early Beatles songs for the curious and the obsessive, as well as a few hits, to 'keep the fans happy.'
We met during a pit stop the band was making in New York, at the office of a production company that has just produced a documentary, also called Best of the Beatles (The Greatest Rock and Roll Story Never Told). They had just finished playing in Philadelphia and were headed to Delaware, for a show at Kelly's Logan House, in Wilmington.
Pete is now 65, still sturdy but grey-haired and rounded out in his jeans and grey T-shirt. He is soft-spoken and friendly, seemingly reconciled to the path his life has taken in the forty-three years since he parted ways with the Beatles.
He was born in Madras in 1941. His mother Mona was born in Delhi in 1917, the daughter of a British officer. His father was a physical training instructor for a Gurkha regiment. After the war, the British Raj was dismantled, and an entire way of life -- servants, parties, privilege -- came to an end.
"We were on the last troop ship which left India." It was 1945, on a ship known as the Georgic, he says, under a General Slim. "When we actually docked in Liverpool, the first thing we felt was extreme cold. Middle of winter. In India we'd been running around in shorts, with little sun tops on and all the other bits and pieces, hats on your head and all. But here it was just sheer, extreme cold, standing on board. Lovely to see it, to see the horizon of Liverpool, the Three Graces actually looming up," referring to the three most prominent structures at the time. "And we knew that this was going to be our home again."
The transition though took some getting used to.
"When Mona came to England, she found it very strange," he says, always referring to his mother by her first name. "There were no servants. People did everything themselves. Of course there were some butlers, but it was very hierarchical. And some of the fruit that we'd ask for -- mangos, guavas, lychees -- we'd taken it for granted in India, but in Liverpool, it was like, 'What?'"
When Pete was a teenager in the 1950s, skiffle and rock music were getting big in the UK -- the result of America's growing cultural impact -- and like every other kid, he gave music a try. Mona wasn't far behind. As a teenager in India, she had occasionally sung for big bands at parties, but had been dissuaded by her father from pursuing music seriously; she instead became a doctor with the Red Cross. In Liverpool, though, she decided to open a club called the Casbah, with every oriental motif imaginable.
"Within the club itself, Mona wanted at least an Indian influence in there. She wanted a Chinese dragon, an Aztec ceiling, she wanted stars on it because they looked like mosques. There were ideas she had that she'd grown up with in India. Which made it totally different from any other club in Liverpool at that time."
The Beatles went through various incarnations in their early days, being known as the Quarrymen and the Silver Beatles before finally settling on their final name.
"The first one I actually met was George Harrison," says Pete. "The band which should have opened the Casbah on August 29, 1959, but broke up a few weeks beforehand. And two of those members were George Harrison and Ken Brown. They came down and met Mona." George, he recalls, was "pretty quiet."
"It was Ken Brown who did most of the talking and George just sat there, nodding. George had played with a couple of other guys, John Lennon and Paul McCartney," and soon, they came together again. Shortly, Pete would be a part of the band, and he recalls the early days as being happy all around, though some Beatles historians contradict his accounts.
'The four Beatles quickly gave him an audition,' writes Steven D Stark in Meet the Beatles. 'The fact that he passed was hardly surprising, since the group's choice was either to accept him or cancel the trip to Europe.' 'From day one he wasn't on the same wavelength,' said [Paul's onetime girlfriend] Dot Rhone. 'But there wasn't anyone else.'
Days after he joined the band, the Beatles took off for Hamburg. There, they played in 'a dreary little dive called the Indra club with a neon sign in the shape of an elephant outside the front door,' wrote Peter Brown and Steven Gaines in The Love You Make. The band made famous use of the St Paul red-light district, 'save for Pete Best, who did not indulge in such things.'
The Hamburg stint was grueling -- the band had to play every night for seven hours -- and the living conditions were terrible. But in just a few months, the Beatles honed their craft considerably, developing into a legendary live act that forsook postwar decorum for raw, feral energy. Pete says he grew especially close to John Lennon, who grew notorious for his on-stage antics fuelled, like the others, by speed and alcohol (and whose story is told in the musical Lennon, now playing Broadway).
"I liked his style the first time I saw him," he says. "Just his humour. His gait, as we called it.  When I actually went to Hamburg, I spent a lot more time with him. The pair of us were the night owls. We were the last in bed all the time. I found there was a very tender and a very loving side to John, which the public never saw at that time."
It's when they returned to Liverpool, talents honed, that their legend was born.
"We'd conquered the Hamburg audiences, and of course we came back home again and the first gig we did was the Casbah," says Pete. "And this was our home crowd, who hadn't seen us. Didn't know who the Beatles were. And that night was something magic. That was the beginning of Beatlemania."
In truth, the term wouldn't come into being until much later -- nevertheless, the band was attracting attention. They got a manager, Brian Epstein. Crowds lined up by the hundreds outside of clubs to hear them play. They started being courted by major labels. And then, just like that, Pete was told he was out of the band.
"There was no forewarning. It was something done behind closed doors. It was pre-arranged that Ringo would be in the band. And the first I got to know about it was when I was dismissed by Brian Epstein." It was, he says, a "big shock."
It was still too early to know definitively that the band would go on to conquer the known universe, but there was a palpable energy and a sense that success was just around the corner. And this is what most bothered Pete down the line -- the timing; that, and the notion that he'd been axed for being a lesser drummer.
Pete was on the same bill as the Beatles several times after he was let go. After that, he says, they never spoke to him again. But he watched their careers take off, admiring, like everyone else, what they were doing. His favorite Beatles albums are Sgt Pepper and the White Album.
"Credit where credit was due," he says. "I was always interested, because they were leading the world as regards to the music industry. And everyone was waiting with bated breath to see which direction they were going in, and what new sound they were going to create and how theywere going to influence people."

In 1967, writer Hunter Davies tracked Pete down for a reluctant interview. 'When I am sitting by myself they often come into my mind, just by accident,' said Pete of his former bandmates. 'I wish I had the money to buy a house, to save living with the in-laws. If I was still with the Beatles, I'd have a house by now. And so my mind goes back, over the old days. And I think, why did it happen.'
That was in 1967, when he was working at a bakery in Liverpool. Later, he joined the civil service. These days, due to the endless interest in all things Beatles, Pete has found new life. After years of feeling ignored, his earliest recordings with the band have been featured on major Beatles compilations, namely Anthology, providing some measure of financial and critical reward (as well as renewed debate of whether he should have been replaced by Ringo). But for the most part, Pete says he no longer dwells on what could have been
"You've got to leave it behind you pretty soon," he says, as we walk down to the street, where his car awaits. "I don't mean it happened and the next day it was forgotten about. But there comes a time in life when you've got adjust to it. Where you turn around and say it's no good reflecting about what happened yesterday all the time. It's very much about today and tomorrow. To coin a wonderful expression my mother used to use, 'It's karma.' What will be, will be."