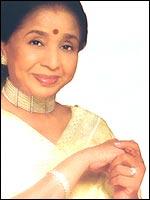 In her new album Asha, Asha Bhosle did the unthinkable. She re-recorded ghazals of the greats of the genre.
"I knew I was looking for trouble when I decided to re-do the ghazals greats -- Mehdi Hassan, Farida Khannum, Ghulam Ali and Jagjit Singh," she says. "But my life is nothing, if not a series of challenges. The danger of purists taking offence was always there. Ab dekhiye na. Aaj kal kya hota hai, koi bhi kisika gana uthke gaane lagta hai. (Nowadays, people are plagurising songs left, right and centre). They just take a big singer's number and make it small, with clothes to match, in the music video, matak-matak ke."
Bhosle insists that she hasn't done any re-mixes in Asha. "I haven't tampered with notes or lyrics. Only the instruments have been modernised. As for the cynics, they're bound to have their say. When some years ago, I released the album Rahul & I, where I sang R D Burman songs, I was criticised even by those who were my admirers. But I remember a four-year-old boy came up to me at a restaurant and asked me to sing Piya tu ab to aaja. I was so happy that a new generation would be familiarised with R D's tunes."
When it comes to re-doing classics, she is no stranger to controversies.
She laughs, "I had once done an album of Noorjehan's songs called Kashish.

Main bahut dar gayi thi. (I was very scared) I phoned Noorjehan for her consent. She retorted, 'Badi himmat hai tumhein'."
"After recording the songs, I took the cassette to her home in London," she continues. "She looked at me angrily and told me to come back the next day. The next day she complimented me, 'Shabaash Beta. Jo cheez main nahin keh saki woh tum keh gayi ho (What I could not say, you have).' I touched her feet and sought her blessings. I hope after listening to Asha, the ghazal greats respond the same way."
"I've tried my best to retain the original flavour. I heard every number at least 50 times," she says.
Incidentally, sister Lata Mangeshkar had paid homage to playback singing greats of Hindi cinema in her album Shraddhanjali. Critics had accused the Nightingale of India of trying to be one-up on her colleagues who had sung the originals. But the album became such a success that Lata recorded a sequel the next year.