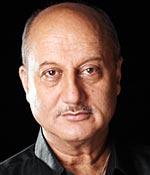 Veteran actor Anupam Kher never imagined that he would be courting trouble over his remarks about the Indian Constitution.

Following a television programme in which the actor said the Constitution needs to be amended in the context of social activist Anna Hazare's anti-corruption movement, the next day, members of the Republican Party of India pelted stones at his Juhu home in Mumbai, saying he had said the Constitution "should be thrown out of the window" on television.

"The irony is that one MLC (member of the legislative council) starts something like this and the rest of the people blindly follow him," Kher said. "It's a sad situation and I am not getting flummoxed about it because I have always been told that truth prevails and that has what has happened."

Kher felt the charges made against him were baseless. "These baseless allegations are being spread by opportunists who do not recognise the importance of the movement against corruption. Anna Hazare showed the TV news programme's video in his press conference and I don't think I have said anything wrong.
"They targeted me as they wanted a scapegoat. But let me tell you, I am not a scapegoat, I'm a lion."

Kher claimed he was a responsible citizen, and that he respected the Constitution. He said that if India was a part of globalisation, people needed to revisit the Constitution and make some amendments. "I revisited the Constitution and saw that 104 amendments have already been made since it came into effect in 1950. This proves my point that the Constitution is not an irrevocable document and can be amended."

Talking about the notice for privilege motion against him in the Maharashtra legislative assembly for his alleged anti-Constitution remarks, the actor said he was not officially intimated about it but was willing to appear before the concerned committee. "I was informed through the media. I am available whenever the Privileges Committee asks me to appear before them to clarify my remarks."

The same weekend Om Puri's journalist wife Nandita Puri passed on an SMS against Kher, stating that actors like him "were megalomaniacs, who abused their privileges so that they could be in the limelight".
"It's funny," Kher answered with a smile. "First of all, I would like to ask who Nandita Puri is. But whoever she is, she has a right to say so as we live in a democratic country. 
"If this is her opinion about an actor, why did she marry an actor?" Kher added. "I would say she married Om Puri because she wanted to be somebody. Having said that, I have complete respect for her and I don't think I need publicity. I did something courageous which might have not gone down well with some people and I am fine with it."

In his 2008 successful film, A Wednesday, a common man took up the system single-handedly. If Anna Hazare was replaced by a common man, would he have been as successful as the popular social worker? "If his point of view generates millions of people from India to join the movement, it might have had the same impact," Kher answered. "At the end of the day, we needed one iconic figure with a spotless reputation."