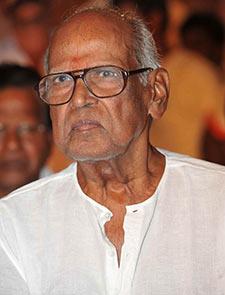 'Bapusaab was so passionate about cinema that he influenced anyone who came in contact with him.'
Anil Kapoor pays tribute to the legend.
Noted Telugu filmmaker Sattiraju Lakshmi Narayana aka Bapu passed away on August 31, leaving behind a huge contribution to cinema.
Besides the Telugu film industry, Bapu influenced the Hindi film industry as well.
Anil Kapoor, who got his big break from Bapu, pays rich tribute to him:
I am lucky I met Bapu recently. He wanted me to see his last film Sri Ram Rajyam, starring Balakrishnan. When I met him, I was struck by how frail and weak he looked. I felt scared for him.
Bapusaab was my mentor, guru, guide and philosopher. I learnt so much from him about cinema and life!
He introduced me to the greats of American cinema Buster Keaton and Charlie Chaplin. He familiarised me with the journal American Cinematographer. Whenever we shot together, mostly in Rajamundhry, all Bapusaab and I would talk about is movies. He was one of the most cinema literate persons I've met.
I owe some of my career to him. So does my brother Boney, and cinematographers Baba Azmi and Ishaan Arya. We were like eager students at his feet. Boney and I got our first break as producers in Hum Paanch only because Bapusaab agreed to direct. Hum Paanch made the careers of Amrish Puri and Mithun Chakraborty.
Bapusaab offered me my first lead in the Telugu film Vamsa Vruksham. Don't ask me how I managed to do a full Telugu film without knowing the language.
Bapusaab liked my work enough to offer me my first big break in Hindi. Woh Saat Din remains one of the most important films of my career. I will always be indebted to Bapusaab for trusting me with such an important film. During Woh Saat Din, he taught me about storyboards.
Three years later, I did another film called Mohabbat with him.
Some of us actors owe our careers to Bapusaab. Even Madhuri Dixit. No matter what Subhash Ghai may say about grooming her, it was Bapusaab who saw the spark in her. She was all set to be re-launched opposite me by Bapusaab in a film called Bajrang. We shot a bit of it and it didn't come out the way we expected. So we dropped that project and made Hifaazat instead. Bapusaab didn't direct that but I wonder what Bajrang would have been like if we had completed it.
Bapusaab was so passionate about cinema that he influenced anyone who came in contact with him. I was blessed to have worked so closely with him.