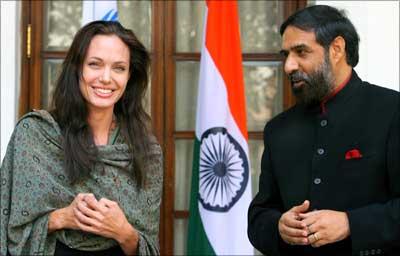 Hollywood star
Angelina Jolie
spoke in public for the first time since she
arrived in India
last month, but not to discuss her new film, which she is shooting in Pune.
The Hollywood actress, a Goodwill Ambassador for the United Nations High Commissioner for Refugees) and a passionate do-gooder, met with Minister of State for External Affairs Anand Sharma in New Delhi on Sunday, November 5, to discuss issues concerning refugees and children.
Jolie is shooting A Mighty Heart, based on Wall Street Journal correspondent Daniel Pearl's life. Pearl was kidnapped and killed by terrorists in Pakistan in January 2002. She is playing the role of Pearl's wife Mariane.
Jolie showed up at Hyderabad House -- where the ministry of external affairs felicitates its VIP visitors -- alone in a black dress and a brown scarf of Indian style. Her partner, Holllywood superstar Brad Pitt, who also traveled to New Delhi, was not present.
Also See: Brad Pitt gets down and dirty
Accompanied by her five-year-old son Maddox, Jolie also visited the refugee camps run by the Khalsa Diwan Welfare Society and UNHCR on November 4, soon after she arrived in Delhi.
Photograph: Raveendran/AFP/Getty Images