Film-maker Anant Balani had a lot to look forward to.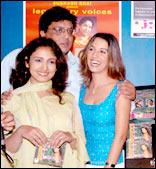 His Joggers' Park, starring Perizaad Zorabian and Victor Banerjee, releases on September 12. Mumbai Matinee (Zorabian again, with Rahul Bose this time) and Ek Din (Bose, Nandita Das) are due to release by the end of this year.
Shooting for his fourth film this year, Chameli, starring Bose and Kareena Kapoor, began last month and was in full flow.
Clearly, after a decade of obscurity, debts and hardship, Balani was feeling good. He was doing good work, the kind of work he wanted to do. And he seemed to be on the way to success at last.
But alas! success was not his to savour. Late Thursday evening, the director died of a massive heart attack while on his way home in an autorickshaw. He was returning from a shooting schedule of Chameli, at Mumbai's Rajkamal Studios.
Chief Correspondent Syed Firdaus Ashraf met Balani earlier on the sets of Chameli. Excerpts from what turned out to be one of Balani's last interviews:
What is Chameli about?
It is about a commercial sex worker [Kapoor] who bumps into an investment banker [Bose] on the streets of Mumbai one rainy night. They have no option but to spend the night together.
| | |
| --- | --- |
| | More on Rediff! |
| | |
The story takes place in one night.

I like the idea of two characters from different worlds who meet accidentally and are forced to be together. That is why I decided to direct Chameli.

Where do these people meet?

They meet at the Flora Fountain area in South Mumbai.

How do these two meet?

The hero's car breaks down. His cell phone runs out of charge. He then runs to take shelter in a building, where he meets this commercial sex worker.

Rahul suits the role of an investment banker staying in the upmarket South Mumbai.

Do you think this kind of film will work where a commercial sex worker romances a hero?

This is not a romantic film. There is no love. This film is about relationships.

Does it have any resemblance to Pretty Woman starring Richard Gere and Julia Roberts?

No, not at all. This is an original script. It has nothing to do with that film.

What is the USP of your film?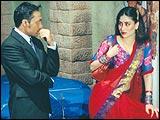 It is based on emotions. It has an unusual story. There are only two main actors. It is a compact film and with a compact budget.
What made you cast Kareena?
I wanted someone who has never played a sex worker before. I wanted to cast against type, break the mould of someone from mainstream cinema. Also, Rahul and Kareena are from different schools of cinema, so the combination works. And no, I did not cast Kareena for sensational value.
Was it difficult to convince Kareena?
It was not too difficult to convince Kareena. When she read the script, she was very excited. She has never done this kind of film before. She is different.
What do you think made her accept this film?
You will have to ask her that. But I think she has made a clever move. She will explore herself as an actress with this role. It is very good sign -- it gives a fillip to filmmakers as well.
Is it difficult in any way to make Kareena act as a commercial sex worker?
I think she has acted brilliantly in the last four days [since the launch of Chameli]. She is doing well. Once she read the script, she picked it up soon. She learnt the body language of commercial sex workers. She is very spontaneous as an actress.
Don't you think she looks too upmarket to be convincing as a sex worker?
I don't think so. See her dress, her makeup. You won't believe it. She does not look like Kareena.
How did you come up with the name Chameli?
It is just Kareena's name in the film. Chameli is a flower. I don't know why this name occurred to me.
How many songs do you have in Chameli?
There are three songs and the music director is Sandesh Shandilya.
Is there a message in the film?
There is no message. I am simply narrating a story.
When do you plan to complete the film?
The film will be over in a month. I think we will release it in November. It will be shot only in Mumbai. The film has a tight script and I want to finish this film in 30 days.
Why?
First, the film is not more than two hours. Second, the economics of film-producing works well for this schedule. The actors are happy to give me bulk dates and finish the film.
A lot of films are being made on start-to-finish schedules these days. Why do you think this was not done earlier?
Simply because actors were busy. Now they are becoming professional. They know that filmmaking is an expensive medium.
Are Indian audiences mature enough to accept such films?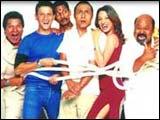 Yes, why not? Five years ago, I would not have believed that a film like [Sujoy Ghosh's] Jhankaar Beats would do well. Now, there is lot of scope for such films. Audiences want something new. They are ready for something different.
Why the long gap in your career?
Everything is destiny. I directed television serials for some time. I didn't make more films because I wanted to make good films. I was just waiting for the right time.
But yes, work is pouring in for me now. I have lots of films in hand. I am happy about that. Times have changed drastically.
How would you describe your films?
My films are not really arty; they are realistic. Stories about real people and real situations. They are more identifiable than the cardboard characters we have today.
Are you happy with the way things are going with Chameli?
Yes, I am very happy. Very, very happy.
Click here for More Interviews