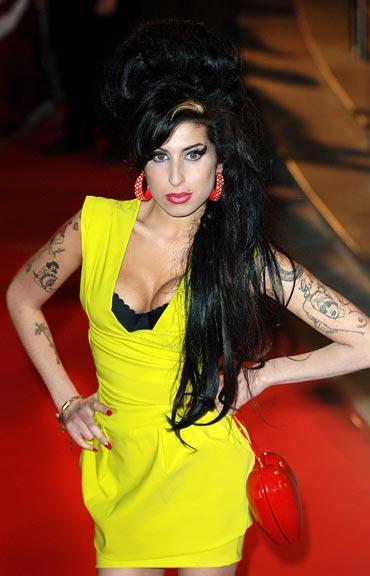 In the world of music, the ripe old age is 27.

The terminal age is common to great musicians like Kurt Cobain, James Morrison, Janis Joplin, Jimi Hendrix and now Amy Winehouse, the newest entrant to the club. It is the age when brilliant talents such as these managed to end their lives in circumstances that could easily be avoided.

Each one of them was immensely talented, very popular, and saw dizzying success very early in their careers. Each one of them battled drug abuse. All of them, after achieving so much in so little time, just could not hold it together.

Amy Winehouse, who shot to fame with her song Rehab (They tried to make me go to rehab but I said no, no, no) from the album Back to Black which won her five Grammy Awards, just followed the words of her song and was found dead, alone, in her house on the weekend.

To say that it comes as a surprise will be false; even her mother had admitted to the fear of losing her a couple of years ago because of the lifestyle she led. "Watching her kill herself slowly, throwing the gifts away."

Perhaps it is the folly of the young who achieve stardom easily and early, to mistake the bright lights to be permanent and assume that the spotlight will remain a constant. No wonder, then, that in the last few years, the tabloids only featured the troubled life of a substance abuser and her inability to perform at concerts.

The concert in Dubai in February this year was testament to the fact that she had no control, and more importantly, that she had no support in the form of a guardian who would take charge of her and point her in the right direction. Her performance was a precursor to what was to happen four months later, in Belgrade, which was so pitiable that the rest of her Europe tour had to be called off.

To try and find a reason for bright talents such as these becoming train wrecks is intriguing; maybe it is just the stupidity of our younger years. It's amazing that Amy generated so much popularity and fame with just two albums. It is a pity that her fans will not get to hear any more of her jazz influenced soulful retro pop albums.
I am sure she will hit the number one spot on the charts yet again due to her passing away, but it will be for the last time. We can only hope and pray that there are no further names admitted to this club.
Photograph: Stuart Wilson/Getty Images