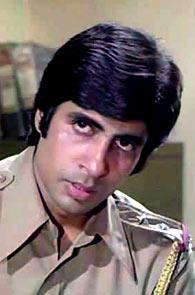 Director Apoorva Lakhia had planned to cast the original Angry Young Man Amitabh Bachchan in his Zanjeer remake. Zanjeer was the first of the Big B's 'Angry' films. Fate willed otherwise, and the actor was unable to put in an appearance in the remake.

Lakhia has now found an ingenious way to incorporate the Big B into the film.

Zanjeer will feature a song entitled Mumbai Ka Hero, which will be interspersed with Bachchan's celebrated dialogues from the original film.

Last week, Lakhia went over to the Bachchan home, Jalsa, to seek permission.

Says a source close to the project, "Apoorva didn't really need to take Amitji's permission to use the dialogues from the original Zanjeer in the song Mumbai Ka Hero, as the rights for these are with the producers of Zanjeer. But he shares a very long and warm relationship with the Bachchan family. He played the song for Amitji to show him how his dialogues would be woven into the track."

According to a source, Bachchan heard the song and froze when he heard the line, 'Achche achche ki g**** phat-ti hai.'

'Are you going to be using that line in the song?' the Big B asked Lakhia calmly.

Lakhia assured him that word would be beeped out in the song.

'Then it's fine,' the Big B said, okayed the song.
When asked about the song, Amitabh said: "My voice is a part of the dialogue from the original Zanjeer. I don't possess the rights over my dialogues. As a gesture of courtesy, Apoorva Lakhia asked me and I approved."